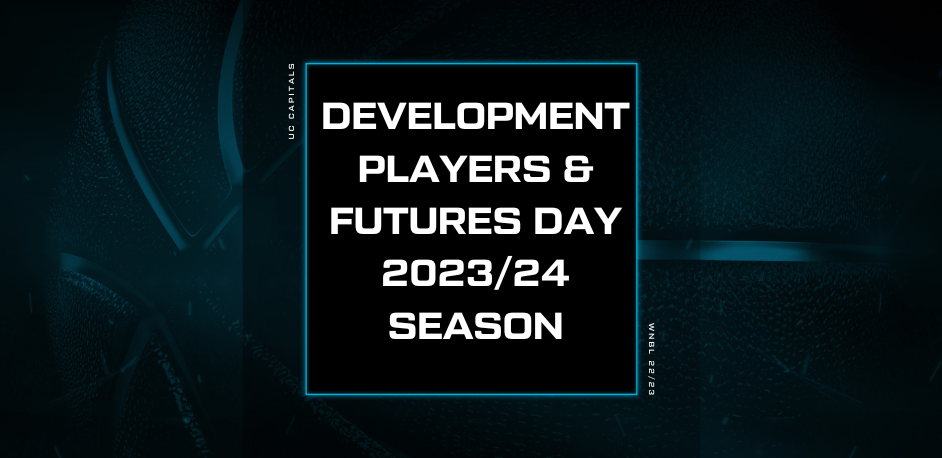 August 18, 2023 | UC Capitals news
The UC Capitals, in collaboration with Basketball ACT and Basketball NSW will be holding a Development Player and Futures Day on Sunday September 24, 2023.
The UC Capitals Development Player & Futures Day is designed to provide professional level exposure and opportunity to aspiring WNBL athletes, coaches and future junior talent from the Australian Capital Territory and New South Wales region.
The organisation will facilitate a motivating and meaningful day where players will have the opportunity to work with, learn from, and talk with UC Capitals players and coaches, whilst competing for a WNBL opportunity.
Following a successful pilot last season, where Chloe Tugliach was selected to join the team, and three futures players were invited to train and experience a game day in the professional league, the UC Capitals are delighted to hold the event again for a second year.
This season, one DP position, a number of futures spots and coaching opportunities are available.
Caps Head Coach Kristen Veal said it was a no brainer to run the event again.
"We're super excited as it was such a successful day last year, not only in finding and offering Chloe a spot but having three players come back for futures opportunities who spent a week with the Caps," she said.
"The day itself was a resounding success with 25 players from around the region coming in, they enjoyed talking and connecting with Capitals and being around like-minded people, and seeing that joy and love for basketball from a professional perspective.
"We believe wholeheartedly in this experience and encourage young women to submit an expression of interest, for the possible opportunity to get on the Caps train."
To be eligible, athletes must not have been a development player for 3 years or more in the WNBL, have minimum Junior State Team, High Performance or NBL1 experience, be able to travel to and from the University of Canberra on the day and be fit to train or coach on Sunday 24 September 2023 10:00am – 3:00pm.
The UC Capitals are now accepting Expressions of Interest from junior and senior players, who are eager to compete for an opportunity with Canberra's most successful sporting team.
If this sounds like you, email uccaps@canberra.edu.au with the following information:
Name
Date of birth
Address
Email Phone number
Current team/age group
Height
Position
Successful applicants will be contacted by the UC Capitals, with an invite to trial and further information on how the day will run.
Submissions close Friday September 1st 2023.