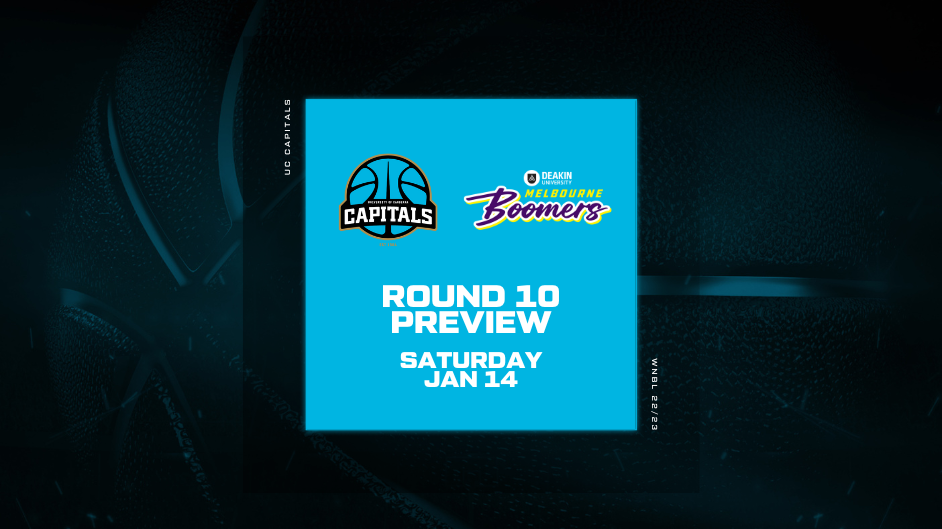 January 14, 2023 | UC Capitals news
The UC Capitals hit the road this weekend, to take on the top of the table Melbourne Boomers in Round 10 of the Cygnett WNBL.
Buoyed by their most recent and first win of the season against the Bendigo Spirit, the UC Capitals will be bringing the same energy and fight into their upcoming match ups.
"I think it will be a good thing to carry the momentum into Saturday but we won't get carried away," Rae Burrell said.
"We've watched film to see what was working and what wasn't working."
Posting a game high 24 points in Wednesday's win, WNBA import Rae Burrell was on fire alongside her teammates, and hopes to do the same on Saturday.
Conquering their third quarter slump, the Caps will need to be at their best every quarter to beat the League's current leaders.
Despite being without Alex Bunton, Brit Smart, Alison Schwagmeyer-Belger and now Lizzy Tonks due to injury, Burrell said the Caps are experts when it comes to overcoming adversity.
"We attack every obstacle head on and we're able to adjust and move forward and do our best with what we have," she said.
"You should never underestimate a team because the game always starts at 0-0, so it's anyone's game every time.
"We're going to work hard every single game to try and get better and win, so don't underestimate us."
It will be interesting to see which side has the biggest home crowd, with the game being played two hours out of Melbourne, in the country town of Traralgon, Gippsland.
"I'm sure excited to go to Traralgon, it's my hometown," Jade Melbourne told media earlier this week.
"If we got a win in Traralgon, it would be a dream come true!
"A lot of my friends and family are super excited for me to be home. I've never played on the new stadium in Traralgon so I'm also super excited for that.
"I'm having all the girls over for dinner which will be nice. I don't know what we're having, we're just rocking up and hopefully mum will have it all sorted, no doubt she'll put on a big BBQ or something and we'll have a good time."
The game tips off at 5pm on Saturday the 14th, streamed live on 9Now.