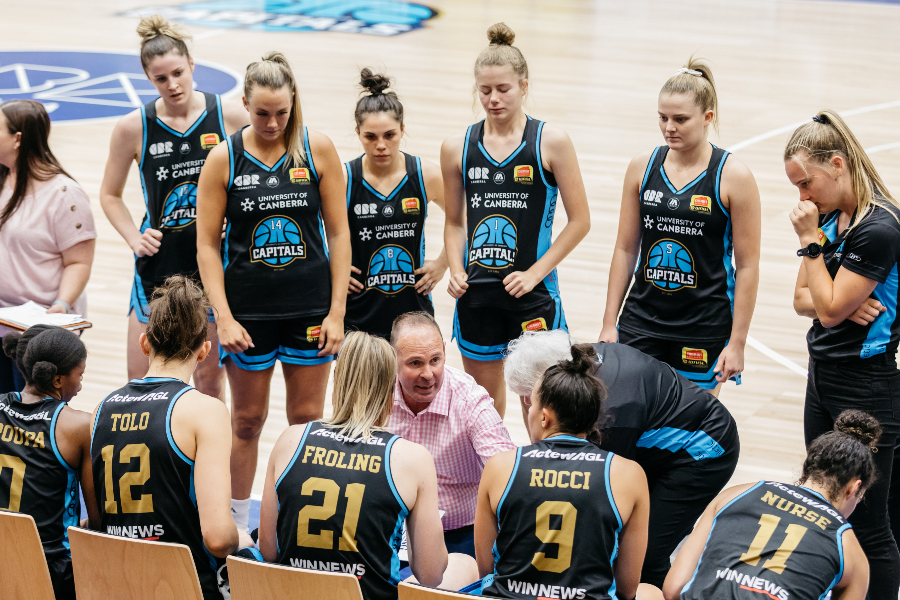 December 26, 2019 | UC Capitals news
The UC Capitals will face their first double-header since Round 5 this weekend with games in Adelaide and Perth.
Starting Friday night, the UC Caps will play the Adelaide Lightning who will be looking to bounce back from a loss to the Melbourne Boomers last round. Sitting in the fourth spot, the Lightning must be careful of the Sydney Uni Flames creeping up the ladder as the WNBL reaches the business end of the season. This will come to a head on Sunday when they face the Flames, so the Lightning will be desperate to start the weekend off on the right foot to stay in the top 4.
The last time the UC Capitals played the Lightning was in a Round 1 championship rematch when the Caps won 90-83. However, much has changed since then – the Lightning have seen the return of Laura Hodges and introduced a new import, Kathryn Westbeld, to replace Crystal Langhorne who had to discontinue her season due to a knee injury. Langhorne did not play against the Caps in Round 1 which was a big advantage, but at that stage Marianna Tolo was also out on injury.
Although Hodges, Westbeld and Tolo are now in the mix, the major difference this time is that MVP Kelsey Griffin will not be present as she recovers from an ankle injury. The UC Capitals survived without the co-captain last weekend as they defeated the Bendigo Spirit, but this double-header on the road will ultimately put the team to the test. Fortunately, Keely Froling has settled into her starting role very well, having posted a new career-high and featuring in the WNBL Team of The Week for the first time in Round 10.
The UC Capitals will then travel west to take on the Perth Lynx who have struggled throughout most of the season so far. Despite this, they've recently had consecutive wins over the Melbourne Boomers and Townsville Fire which could have potentially sparked the momentum they need to reclimb the ladder. Perth is only narrowly behind Sydney, so the fourth spot is truly in contention.
The Caps dominated Perth 84-66 in a final quarter showdown in Round 6, the last time the two teams faced, but now that Perth have reintroduced their import big Imani McGee-Stafford, the Capitals have their work cut out for them now more than ever before.
Overall, the UC Caps must aim for consistency this weekend and into the final month of WNBL20 to overcome the six-week loss of Kelsey Griffin. Despite defeating Bendigo, they identified some things to work on over this week of training and hopefully they can find their rhythm as soon as they hit the court on Friday.
—
UC Capitals V Adelaide Lightning
Friday 27 December
7:30pm tip-off 
Live stream: click here.
UC Capitals V Perth Lynx
Sunday 29 December
4pm tip-off 
Live stream: click here.