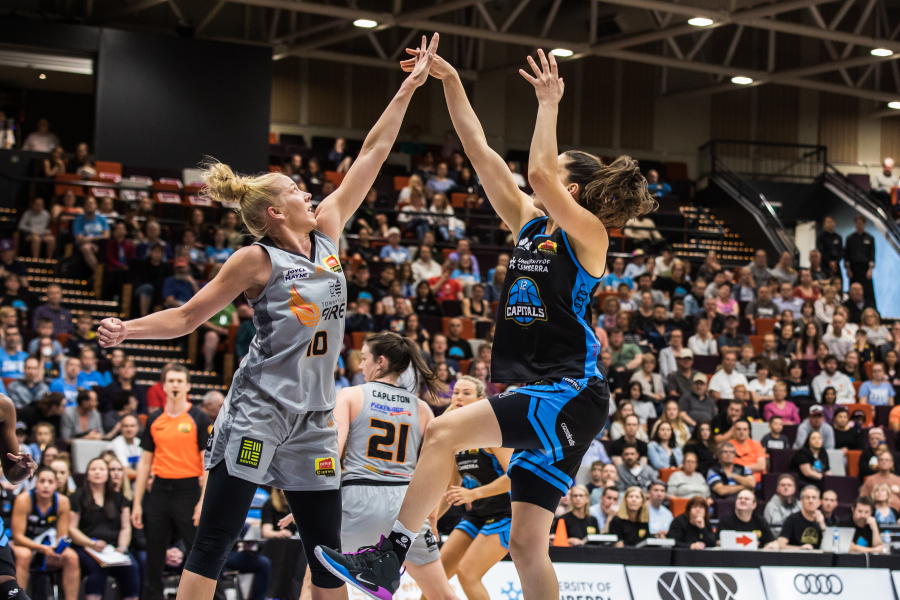 January 9, 2020 | UC Capitals news
By John Robinson IV
Coming off a disappointing four-point loss to Bendigo, despite big double-double performances by Keely Froling and Marianna Tolo, the University of Canberra Capitals have refocused, ready to play the Townsville Fire.
The Capitals have struggled as of late as they adjust without the veteran presence of Kelsey Griffin. However, the Capitals understand they still control their own destiny being one of the top teams in the pool and are fired up to take care of business in Townsville. 
As we look ahead to this next matchup we can expect a better Caps team this go around. Coach Paul Goriss mentioned that the team lacked defensive prowess in Bendigo as they gave up an uncharacteristic 94 points. Against the Townsville Fire, expect the Caps to sturdy up that defense and show a lot more physicality.
The UC Capitals had a lot more practice time this week thanks to improvements in the air quality, coming off only one session last week leading into Bendigo. This allowed Canberra to take some much needed time to get back in the gym and thoroughly prepare for their next opponent.
"It's been fortunate this week that we haven't had much smoke so we had a couple of really tough training sessions on Monday and Tuesday, so it's been good for us leading into what is a must-win game for us on the weekend," said UC Capitals co-captain, Marianna Tolo.
"No one wants to lose and it's put a fire in our bellies, we want to head into finals with confidence. It's definitely been challenging without Kelsey and it means we have to step up and continue to make training hard and challenge each other so that we get better."
Watch out for big performances by Keely Froling as she is playing in her hometown of Townsville while Tolo and Kia Nurse look to lead the Capitals to a win this Friday which would help give the Capitals some much-needed momentum as we look forward to the crucial games before the playoffs.
—
UC Capitals v Townsville Fire
Friday 10 January
8PM tip-off
Livestream: click here.