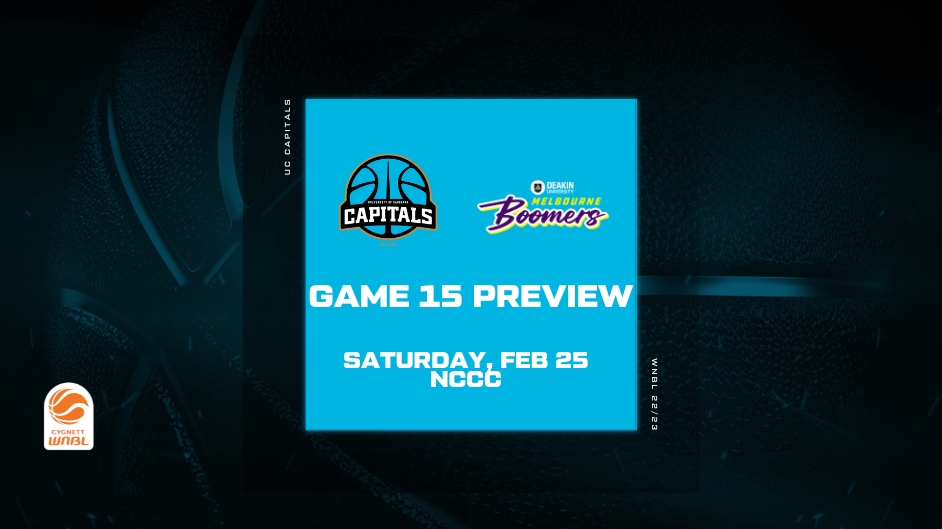 February 25, 2023 | UC Capitals news
Two games left. That's it for season 22/23.
The UC Capitals take on the Melbourne Boomers in Round 15 of the Cygnett WNBL season at the National Convention Centre Canberra from 5.30pm.
Development player Chloe Tugliach said despite the win loss record, the team has still been able to find plenty of positives to come out of every game, particularly in the back end of the season.
"We have had some really great chats as a team this week about staying connected and really reflecting on how far we've come," she said.
"It may not show it on the score board but we do come out of every game knowing that we've won in our own way and we are excited to go after the W for the next two games."
With a semi-finals spot locked in for the Melbourne Boomers and the late inclusion of Leilani Mitchell to the squad, the Boomers will be going into the weekend confident.
"Melbourne is going to be really tough," Chloe said.
"I think they're going to be trying to come after us after that loss the Southside Flyers, so we are all very excited and motivated to finish the season strong."
But the UC Capitals have Jade Melbourne.
"Jade Melbourne, honestly, how does she do it? I don't know. I don't think anyone know. She's a workhorse and we love her for it.
"Even though she is really young, she is a natural born leader and we thrive off her energy, she is always up and about always about the team. She brings us together in really crucial times so we do rely on her a lot for that. She is also like that calming presence which a lot of people wouldn't also see or hear or know of Jade, but when we're in the huddles, she's really direct, tells us what we need to hear and then we're on to the next. She's invaluable."
Tugliach expected to continue to get minutes off the bench, as she covers injury but also makes a mark of her own in the league.
"Unexpected would be the word that comes to mind and probably very grateful," she said.
"We have a team that has is very resilient and has been through a lot of lows this season. And I suppose I felt really supported to step into what my role is now, playing a few more minutes.
"I am just grateful to be given the opportunity to feel supported by the girls on and off the court to be able to go out and do what I do."