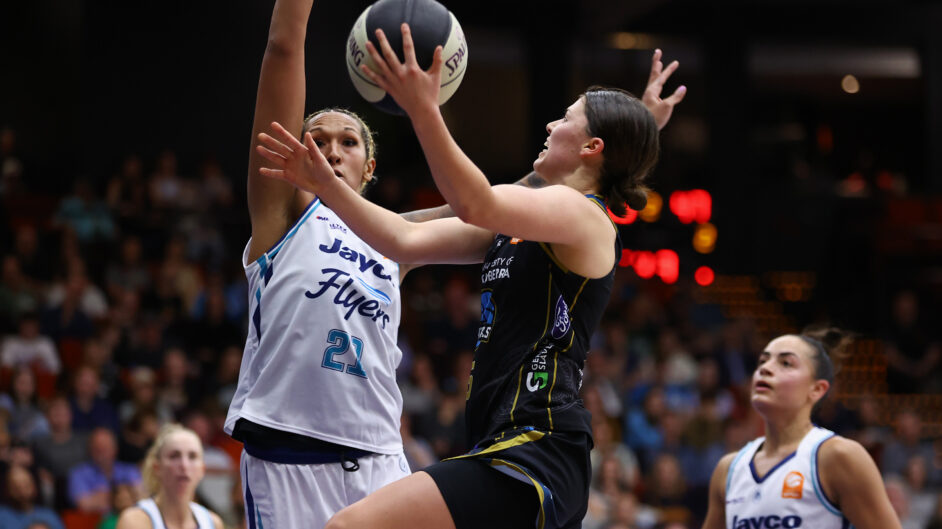 November 7, 2023 | UC Capitals news
The UC Capitals are ready for their second home game in four days, going up against the Southside Flyers on Wednesday night at the National Convention Centre Canberra.
Despite some frustration over their three-point loss in their opener against Adelaide Lightning, the UC Capitals are looking at all the positives that also came out of the clash.
With Alex Sharp being named in the WNBL team of the week, Jade Melbourne leading with assists and Gemma Potter making a remarkable return 366 days after rupturing her ACL, there were standout performances all across the court.
"I think what our group is doing well, is separating from what we were and where we were last year, to really starting fresh and giving this new group a chance to show who they are and then grow into what they can become," UC Capitals Head Coach Kristen Veal said.
"This is an unreal group. They're just so receptive, so connected. There's so much joy with them and they've got so far to go, they're a pleasure to coach."
Coach Veal believes with a continued focus on defence and discipline, this group can achieve anything, even against a well experienced team like the Flyers.
"You look at the future of the WNBL, and that's Adelaide and Canberra. Now we flip to a super experienced group in the Southside Flyers with the likes of Lauren Jackson, Carly Ernst and Bec Cole, Maddi Rocci and Mercedes Russell. It's the perfect follow up to Adelaide in the sense that we can just get out there and be what we spoke about earlier, being creative and disruptive and a little bit more wild and free."
Hoping to replicate the near sellout crowd of 1,702 that was at Sunday's game, Coach Veal said she's overwhelmed by the loyalty and support shown by the Caps fans.
"They are loyal, they do understand struggle, they do understand resilience and grit, they recognise it and they celebrate it."
Tickets to Wednesday's game are available here.