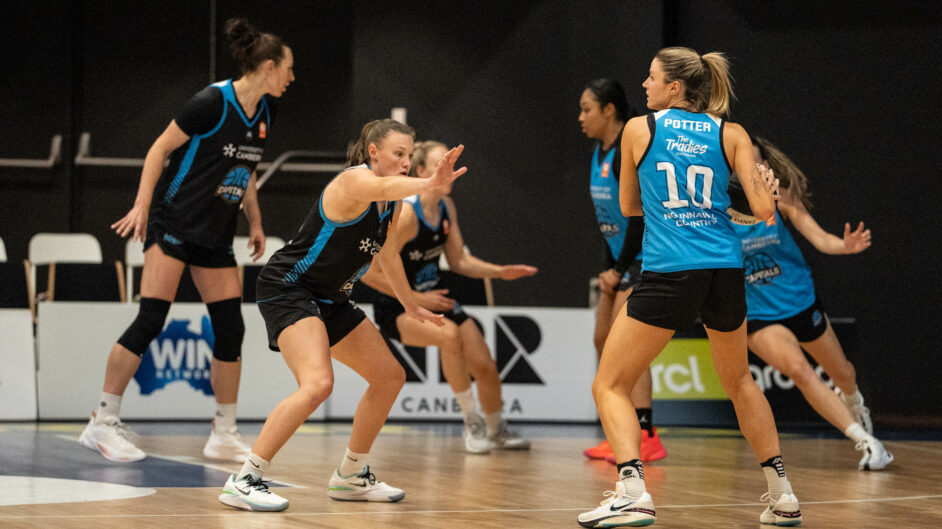 November 17, 2023 | UC Capitals news
The UC Capitals are gearing up for their second away game of round 3 as they fly into Townsville to take on the Fire in a Saturday night clash.
Hitting the court again just three days after their first away match this season, the Caps are ready to bounce back after their narrow loss to the Sydney Flames earlier this week.
Caps head coach, Kristen Veal, says their first away trip has made way for lots of discussion throughout the group, and is an important opportunity for the team to grow and develop.
"We really focused on and had a call for change to get some progress and forward momentum, especially on the defensive end. Our offense will continue to evolve; we've got massive talent on that side of things. It was always about the defence, the things we spoke about showed some great improvement."
The Fire have started the season on mixed results, winning their first match comfortably against the Bendigo Spirit before suffering a tough one-point loss to the Southside Flyers.
Townsville have had several changes to their playing roster this year, holding onto just four players from their championship season. Steph Reid, Courtney Woods, Zitina Aokuso and former Capital, Mikaela Ruef, have all returned to provide experience for the defending champs.
The most notable additions to their roster include Australian Opals, Sami Whitcomb and Alice Kunek, and Canadian import Cassandra Brown. The Fire are still looking to sign a second import after Tianna Hawkins' late withdrawal from the season.
The Caps will look to build on their connections with their new signing Jade "JJ" Kirisome who played her first WNBL minutes on Wednesday. Meanwhile, co-captain Jade Melbourne will look to continue her good form after dropping a record 31-points.
With the Fire currently sitting in fourth position on the ladder, Veal says the Caps are preparing for some quick game play.
"They're going to try put pressure on the ball, for the full length of the court, for as many repetitions as they can.
They've got some huge scoring talent and some depth, so we're just going to continue to be brave and stay the course in offence and continue to move forward on our defensive discipline and disruption," Veal said.
The Caps tip off against Townsville at 8:30pm AEDT on Saturday night, broadcasted via 9NOW.