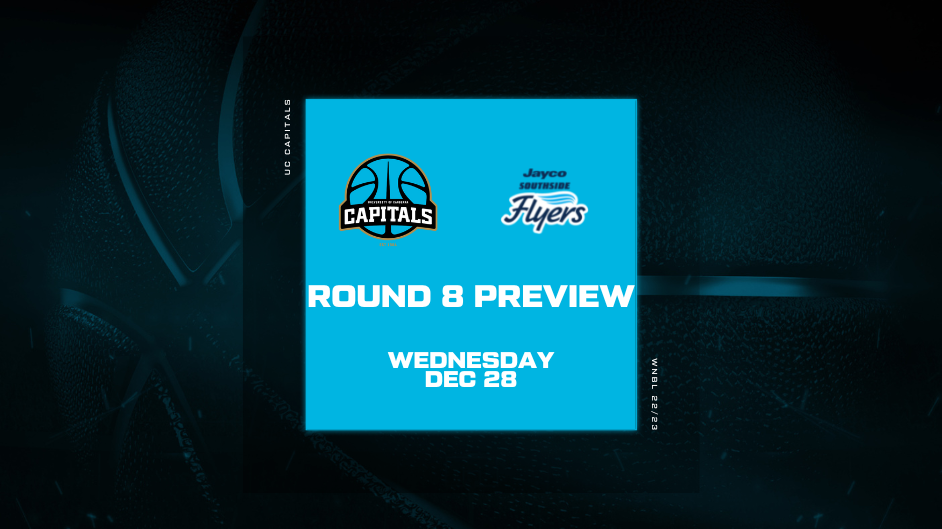 December 28, 2022 | UC Capitals news
WHEN:  Wednesday, 28 December, 5.30PM
WHERE: SBC
HOW TO WATCH: 9Now
A brief Christmas break and the UC Capitals were back at training on Boxing Day, to prepare for their game against the Southside Flyers on Wednesday night in Round 8 of the Cygnett WNBL.
Their last encounter against Southside was immense for the UC Capitals, holding Lauren Jackson to just 13 points and 5 rebounds at the National Convention Centre Canberra.
But this week, Southside is boasting three big reasons to win; Sara Blicav's 250th game, the return of Abby Bishop at home and a big win over the league leaders the Bendigo Spirit.
However, our UC Capitals are full of belief the can get the job done in Melbourne.
"In our last game against them, we learnt we can compete and we can make schemes and we can go against the best in the league and that's pretty much what we're going to have to do again this Wednesday," UC Capitals Head Coach Kristen Veal said.
"We can't put another 10 kilos or 3 inches on us, but we can compete and be disciplined"
Without Emilee Whittle-Harmon due to injury, Vealy is confident her team will help fill the void, with Bec Pizzey stepping up in a big way in their last game.
Rae Burrell is also finding her feet in the league, posting some huge numbers in their first Round 7 game against Sydney.
She says while it took some time to get comfortable and confident, she's now settled and determined to post a win.
"It's not always easy when we're losing but we're doing our best to be optimistic and keep out hopes high and just keep working hard, practicing hard and doing what we need to work on to get better every day," Rae said.
"We're always looking to just get better as a team, if that doesn't come in a win we want to make sure we get better in every game.
The return date for Alison Schwagmeyer-Belger is still unknown, however she will be travelling with the team to Melbourne.