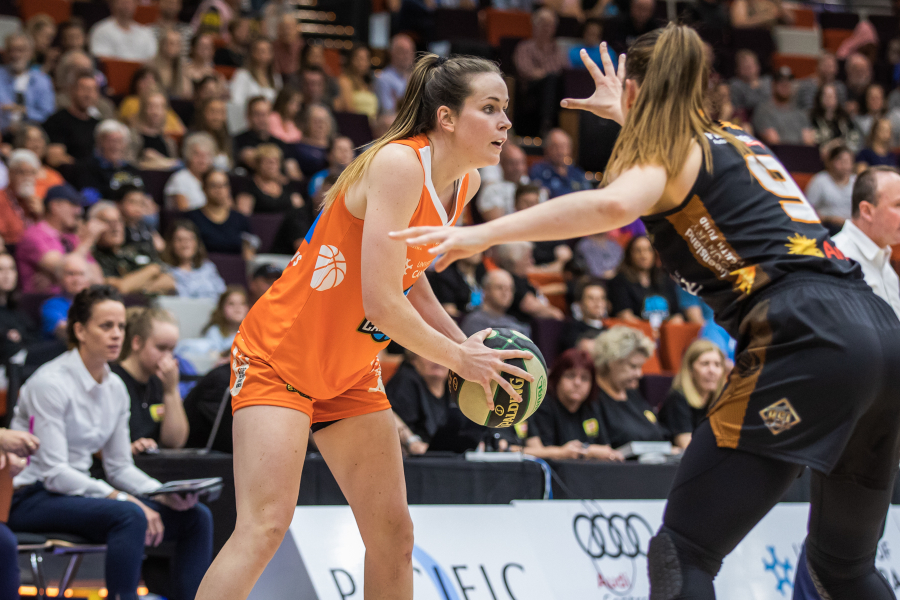 December 3, 2019 | UC Capitals news
By John Robinson IV 
After a scrappy victory against the Townsville Fire, the UC Capitals will be looking to ride this momentum on their road trip versus the Bendigo Spirit this Friday.
Keely Froling and Paul Goriss both highlighted the importance of continuing that defensive prowess that led them to the championship a year ago. Froling, usually known for her versatility as a scorer, showed major potential as a defensive force as she made two key defensive takeaways that helped secure the UC Caps' win this past weekend.  She also mentioned the importance of winning these games because although the records of Townsville and Bendigo may not show for it, both teams are competitive and play tough basketball.
As the UC Capitals sit third in the playoff rankings, it is important for them to keep winning as they look to make a push for the top two spots currently held by Southside and Melbourne. Froling has been playing some of her best basketball this WNBL season and look for her to keep displaying the full arsenal of her game.
Coach Goriss was emphatic on making sure the UC Capitals played solid defense and not getting complacent throughout games. As the team looks towards Bendigo, Goriss noted that they cannot underestimate Spirit saying, "they take it to every team they play".
The Bendigo Spirit also have UC Capitals former point guard Kelly Wilson, who was a part of the 2018-2019 championship run. Goriss had high praise of Wilson, saying she is wired the same as Kelsey Griffin – both players are tough, gritty, and will do whatever it takes to win.
Look for the UC Capitals to carry this momentum from their last win to Bendigo this Friday as they try to continue to climb the playoff rankings.
—
UC Capitals V Bendigo Spirit
Friday, 6 December
7pm tip-off 
Live stream: click here.