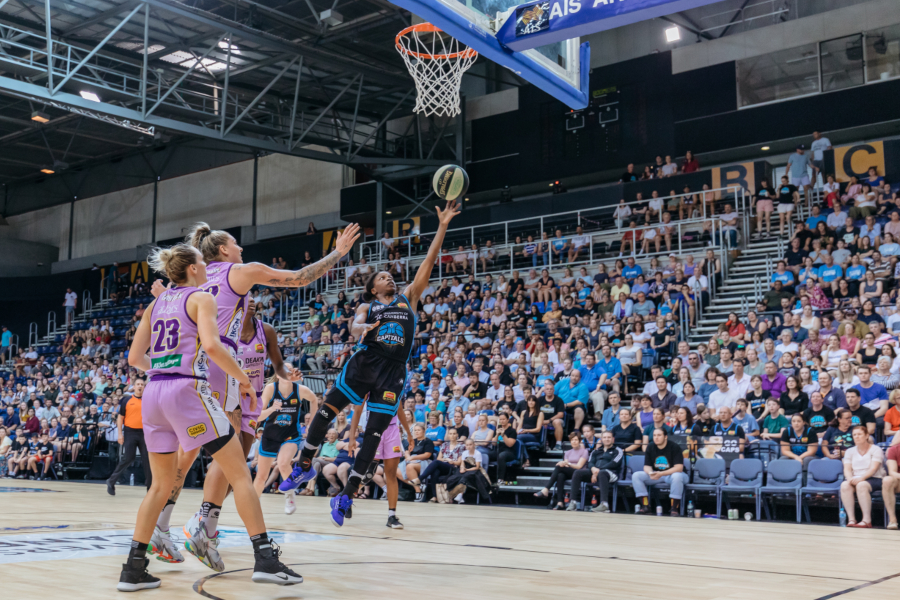 February 21, 2020 | UC Capitals news
Semi-Final Game 2:
UC Capitals V Melbourne Boomers
Sunday, 23 February
6pm tip-off 
State Basketball Centre, Victoria
Live stats: click here.
Watch live: Fox Sports or Kayo
—
While the UC Capitals enjoyed a 14-point win over the Melbourne Boomers to give them a major head start in the best-of-three semi-final series, game two will be their greatest challenge yet.
Up until the MVP, Kia Nurse, turned the game on its head with three consecutive treys to ignite a dominant final quarter by the Caps, there was little separating the two teams.
However, this time, the Boomers will hold the advantage with their home crowd to inspire a win. The UC Capitals are expecting a tougher and more desperate Melbourne team as they fight for their final chance for a grand final ticket in a sudden-death situation.
"They have something to prove too so you know they're going to bring it," said co-captain Kelsey Griffin.
Griffin, along with Keely Froling, was named in the Australian women's 3×3 squad this week but concedes that Sunday's game is the only thing on her mind for now.
"Being a professional athlete, you compartmentalize pretty well.
"I think we can make some adjustments. Our offense was super stagnant in that first half and we were missing outside shots that we would normally make.
"We definitely didn't play our prettiest game of basketball, but we made big plays when it counted so I think if we can put together four quarters, we'll be right in it at the end and should have a pretty good chance.
"Melbourne's a battling team, they've ground out wins all year too so I think that's why the games are so physical and there's no real clear cut winner. I think it really will be who shows up on the day and who wants it more. It'll be a battle of possessions, whoever wins the rebound and turnover count and shoots the best percentage will win," said Griffin.
This week, UC Capitals' Head Coach Paul Goriss was honoured with the WNBL Coach of The Year award after overcoming a rocky season and steering the team to a second-place finish.
Melbourne bigs Ezi Magbegor and Cayla George were also acknowledged in the WNBL awards. Magbegor took out the Betty Watson Australian Youth Player of the Year and George was named in the All-Star Second Team.
The Boomers reported that Toni Farnworth is recovering well after missing game one due to illness last week and will likely play on Sunday.
Marianna Tolo, who was also coping with illness in game one, returned to training this week and is back to her normal self.
However, 17-year-old Gemma Potter, who was just one of two coming off the bench in game one and who stood out for her impressive defence against Melbourne's Lindsay Allen, rolled her ankle during training this week. Goriss is hopeful she will be fine to play on Sunday, but in the meantime, Potter is wearing a boot to avoid putting unnecessary weight on her ankle.
If Allen has a game like her first quarter last Sunday, having put up 11 of her 17 points within the first 10 minutes, the UC Capitals must make sure their defence is at their best.
Look to Kia Nurse, Kelsey Griffin and Olivia Epoupa who had standout performances in game one and will again be critical to the UC Capitals' success. If the team finds their rhythm as soon as the game tips off, Melbourne will have a hard time holding on.
A game two win will mean the Caps advance to the grand final, but if they fall short, it's back to AIS Arena on Wednesday, 26 February for one last chance. A sweep is the goal, though, so let's hope the Capitals return to Canberra with the grand final in mind.