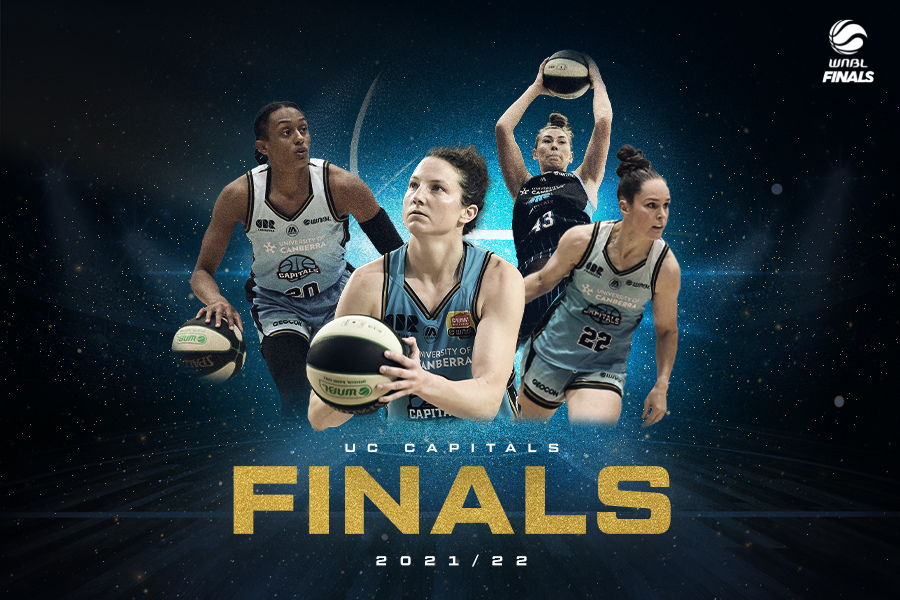 March 21, 2022 | UC Capitals news
The UC Capitals will need Canberra's support when they head home for Game 2 of the 21/22 WNBL Semi-Final Series on Sunday, March 27 at Southern Cross Basketball Stadium in Tuggeranong.
The team is taking on the Perth Lynx for the Series which tips off on Thursday night on opposition territory.
The UC Capitals finished third on the ladder after two uncharacterised losses in the final round of the regular season.
With narrow margins separating the top four teams, those two games made all the difference in determining which teams secured home court advantage for the semi-finals.
The top-of-the-table Melbourne (who will play the fourth-placed Adelaide Lightning) and second-placed Perth Lynx will enjoy their home courts and crowds for Game 1 and, if required, Game 3 of the two series.
The last time the UC Capitals met the Perth Lynx, they pulled off a convincing 16 point win. The Lynx won the series split over the Caps though, with back-to-back wins in Rounds 7 and 8.
The UC Capitals will need to leave it all on the floor to progress to the grand final for a shot at the club's tenth championship.
Canberra will congregate at the old UC Capitals stomping ground at Tuggeranong for Game 2.
It may not be the UC Capitals usual venue since moving to the NCCC and AIS Arena in 2017, but Captain Kelsey Griffin said that she heard how raucous it used to get back in the day.
"Even though there are only 1300 or so people that are going to be able to fit in it, I truly believe they will be the 1300 that most want to be there and it will be rocking, so I'm really excited about the atmosphere."
Given the limited capacity at Southern Cross Basketball Stadium, the UC Capitals strongly advise anyone who wishes to attend purchase as soon as possible.
UC Capitals vs Perth Lynx Semi-Final Series:
GAME 1: Thursday, March 24 at 9:30pm AEDT (Bendat Basketball Centre)
GAME 2: Sunday, March 27 at 5pm AEDT (Southern Cross Basketball Stadium, Tuggeranong)
GAME 3: Wednesday, March 30 at 9:30pm AEDT (Bendat Basketball Centre)