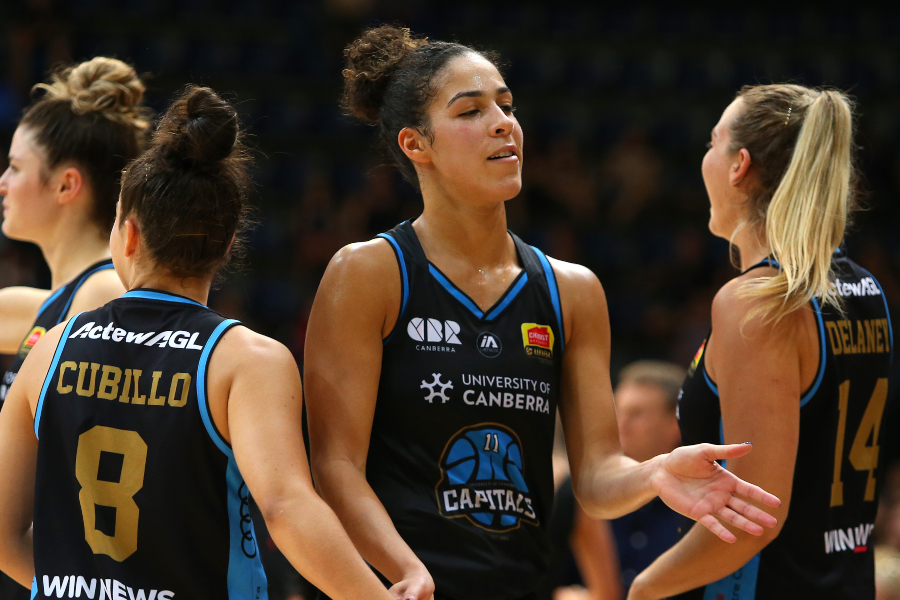 February 17, 2020 | UC Capitals news
Zero three-point shots made by halftime and only four points five minutes into the third quarter – the UC Capitals started to look like they had lost control.
But when the newly crowned MVP, Kia Nurse, begins to heat up, she looks indefensible. A trio of back-to-back threes by Nurse helped put the Caps back up 57-55 to end the third quarter.
From there, the Melbourne Boomers couldn't keep up, putting up a 15-point final quarter compared to the Caps' 27.
In front of over 2492 at the AIS Arena, the UC Capitals won game one of the semi-final series, 84-70.
Melbourne's Lindsay Allen appeared to be in good nick despite some trouble with her knee that had her sidelined for much of the remaining regular season, causing the UC Capitals' a lot of trouble early on, shooting 11 of her 17 points within the first quarter.
The UC Capitals managed to hold on, though, keeping within a point or two for most of the first half.
Despite strong offensive performances from Maddie Garrick (16 points), Sophie Cunningham (14) and Cayla George (12), the Boomers couldn't manage to stop the UC Capitals shooting barrage in the final quarter.
"Having some cohesion early on was part of the issue, I don't think we moved the ball well offensively but we hung in their defensively and did a great job on the boards. In the second half, once Kia started making shots, it really opened up for us," said head Coach Paul Goriss in the post-game press conference.
"I don't think they had an answer to defending her off the actions that we were running. Getting the crowd into it really energised the group as well. Any time you're scoring back-to-back threes or baskets and then continue to get stops down the other end, it really feeds into the atmosphere we had here in our home crowd."
Kia Nurse added salt to the wound with one last shot from downtown with just 1.4 seconds left on the clock to bring her points to 25, leading all scorers.
Nurse said that Canberra crowd was the best part of the win.
"There's nothing like it. It's hard to play in an environment like that when you're an away team. To get the crowd going was also a big part in our turnaround.
Olivia Epoupa finished with a double-double (19 points and 10 rebounds) and Kelsey Griffin (7 points, 12 rebounds and 7 steals) had an impressive defensive game.
The UC Capitals will now travel to Melbourne this weekend to play game two. If they win, they will proceed to the grand final. If the series is tied, the semi-final will go to game three.