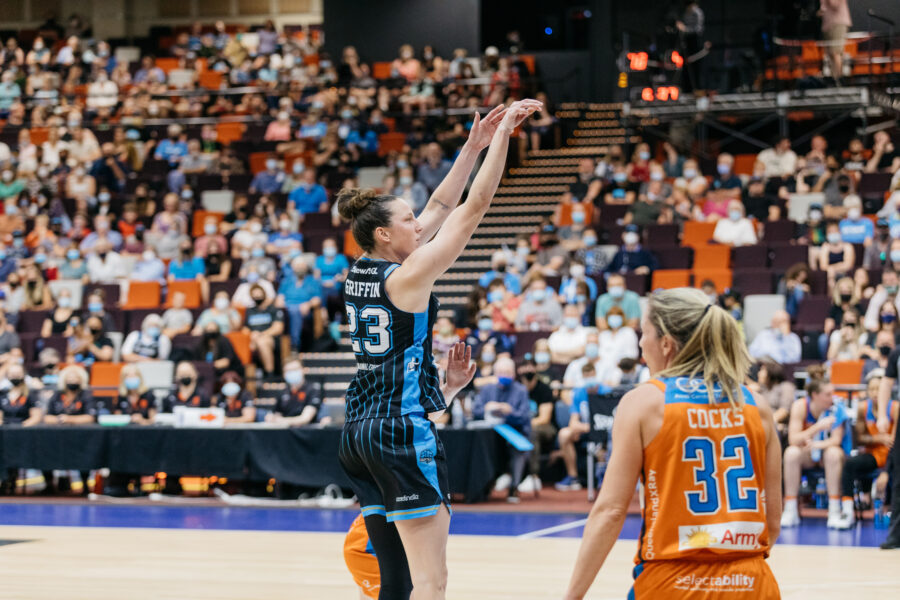 February 20, 2022 | UC Capitals news
The UC Capitals have kept their win streak alive after putting on a show in Canberra on Saturday night, defeating the Townsville Fire 84-58.
The win comes despite the UC Capitals not playing any games for two weeks and being short of five players.
Head Coach Paul Goriss said that the win showed the team's resilience and character.
"I don't know of a more dominant start probably in the 6 years that I've been here.
"We took great shots, the ball was moving and everyone was together at both ends of the floor," said Goriss.
Kelsey Griffin had one of her best games of the season so far with a double double of 18 points and 11 rebounds. It was a whole team effort to get the win, though, with contributions across the board including Britt Sykes (13 points, 5 rebounds, 8 assists), Britt Smart (12 points, 5 rebounds), Kelly Wilson (11 rebounds, 7 assists) and Tahlia Tupaea (12 points, 4 rebounds).
The UC Capitals have now won six consecutive games including the one Southside forfeited, but remain second on the ladder with just 2% separating them from the top-of-the-table Perth Lynx.
The UC Capitals will now go onto play their last home game of the regular season on Sunday, 27 February against the Melbourne Boomers.
For the box score, click here.