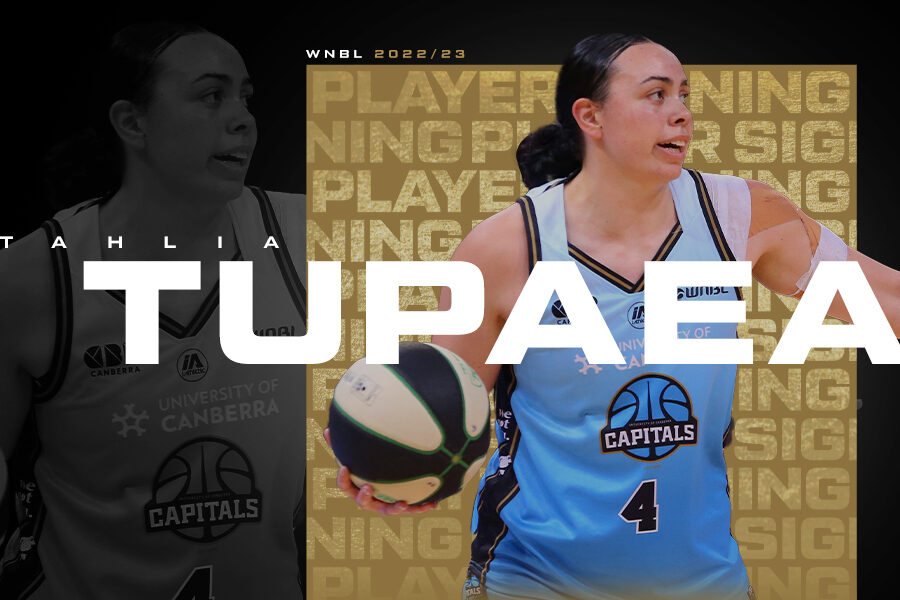 May 5, 2022 | UC Capitals news
The UC Capitals are pleased to announce that Tahlia Tupaea has re-signed with the club for the 2022/23 WNBL season.
Providing crucial energy from the bench, the guard became one of the most efficient three-point shooters in the league throughout 21/22, averaging 44% from the arc.
Speaking on her signing, the 24-year-old said she is looking forward to her third season with the Caps, as well as working with new Head Coach Kristen Veal.
"I am so excited to be back at the UC Capitals next season, and am really determined to have a great season," she said.
"It was disappointing the way the season ended but I am keen and excited to further develop my skills under Vealy."
"I watched her when I was Junior and was always inspired by her game. I have played against her and now have the opportunity to be coached by her."
Head Coach Kristen Veal said Tahlia is a unique and valuable player for the Capitals.
"There's no point guard like her in Australia, with her size, her strength, her skillset, her shot and how she reads and see the game, so I'd like to see her take a bit more of a leadership role on and off the court this year," Veal said.
"I think it's her time to step into a little bit more responsibility, little bit more leadership and I think she's ready for that and she wants it, which is the sign of an elite mindset and a talented basketball player".
Tupaea is the fourth player to sign on for the 22/23 season, with Jade Melbourne, Shaneice Swain and Gemma Potter entering the second year of their contracts with the club.
"There is a real team player profile building, with the young ones. We have athleticism, high energy, some bravery, some physicality, some IQ, so we're really starting to lay the foundations for some really exciting group moving forward".
2022/23 UC Capitals Signings |
Jade Melbourne, Shaneice Swain, Gemma Potter, Tahlia Tupaea