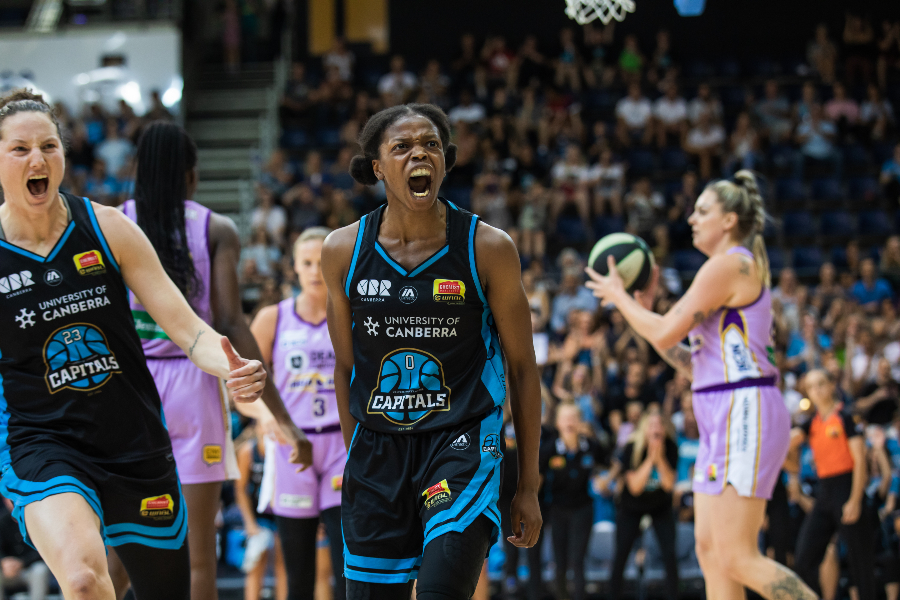 February 27, 2020 | UC Capitals news
The UC Capitals will meet the Southside Flyers in the grand-final series after an epic 13-point win in game three of the semi-finals.
The semi-final series had been filled with nothing short of drama, physicality and rivalry, and after a 14-point win in game one to the Caps, a 12-point win to the Boomers in game two, the UC Capitals finished things off at the AIS Arena, 77-64.
The Caps were able to find their momentum early, starting with a Kia Nurse 3 and ending the quarter with both the MVP and Kelsey Griffin on eight points to give the home team a five-point lead.
The Boomers' Stella Beck took a hard fall with Kelsey Griffin in the second quarter and seemed to have hurt her ankle with staff having to carry her off court.
This didn't rattle Melbourne too much, though, as they matched the Capitals' 22 points in the third quarter. A three by Maddie Garrick finally put her on the scoreboard, but it was controversial Sophie Cunningham that was leading their side as the only Melbourne player in double digits.
Marianna Tolo heated up in the third, adding 12 points to bring herself up there with Griffin and Nurse.
The fourth quarter was met with a hot start by Melbourne, whose seven-point run put them within four points of the Capitals. However, a big three by Olivia Epoupa put a stop to that momentum swing and a Cunningham personal foul on Nurse sent her to the line for three, all of which she made, to end the game.
Tolo (20 points, 7 rebounds), Griffin (19 and  9), Nurse (18 and 5) dominated the game while Epoupa (11, 8 and 9 assists) almost had a triple-double.
Cunningham (14 and 5) and Cayla George (8 and 12) led the Boomers.
Tolo said that it wasn't until the last 30 seconds that she knew they were going to win.
"Even in that last minute, you know they are good shooting team and they can get on fire and so I didn't want to take the foot off the pedal.
"I said in the last timeout that 'we can't stop here' because I've seen a game come back from 19 points down in a minute and a half.
"I was so glad that we were able to just take control of it and take it out with a couple of good stops," said Tolo.
The UC Capitals will start the grand final series against the minor premiers in Melbourne on Sunday. The Capitals won the series split over the Flyers in the regular season, but they are the only team to have defeated the Caps at home since November 2018.
FINALS SCHEDULE
Game 1:
Sunday, 1st March at 5pm (Dandenong Stadium)
To purchase tickets, click here.
Game 2:
Wednesday, 4th March at 7:30pm (AIS Arena)
Member pre-sale: Friday, 28 February at 10AM
(Access code to be distributed via email and Members Facebook Group on Thursday, 27 February)
General public sales: Friday, 28 February at 4PM
IF NECESSARY – Game 3:
Sunday, 8th March at 1pm (Dandenong Stadium)
All games available live on FOX Sports Australia.
Please note all times and dates are subject to change.