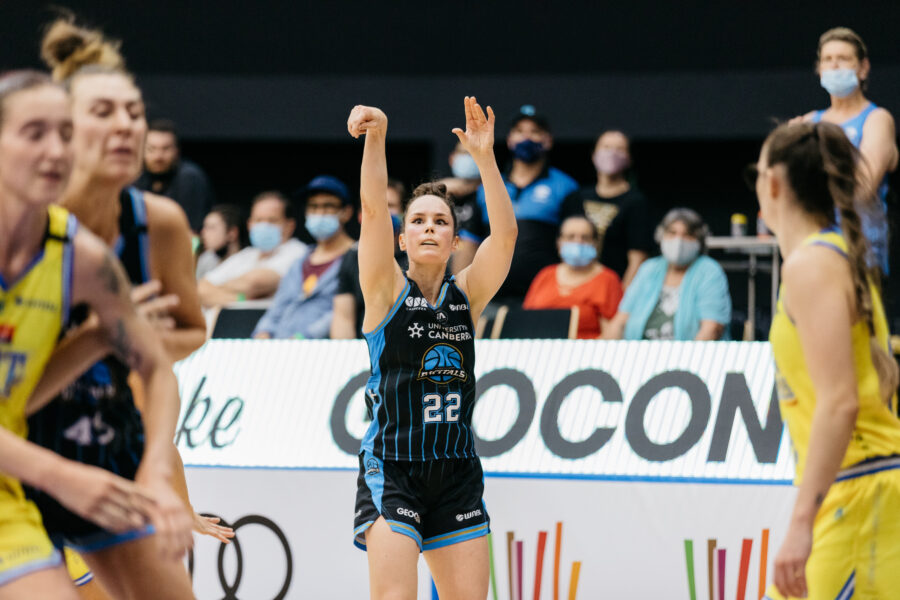 December 25, 2021 | UC Capitals news
The UC Caps have overcome a turbulent period with a big win over the Bendigo Spirit on Wednesday night, 100-86.
Coming off a disappointing loss to Adelaide Lightning just days earlier, where they struggled to find their rhythm, the UC Capitals have responded with a whole team effort.
Six players scored in double-digits including Kelly Wilson (14 pts, 4 reb, 9 ast), Brittney Smart (13 pts, 3 reb, 2 ast), Jade Melbourne (13 pts, 4 reb, 2 stl), Mikaela Ruef (13pts, 5 reb, 6 ast), Alex Bunton (12 pts, 7 reb, 3 stl), but it was Brittney Sykes who notched a third of the Capitals' total points.
Sykes put up 33 points, 5 rebounds, 4 assists, 3 steals and 2 blocks, shooting  68% from the field.
"Given the circumstances and how the week's developed, that was something this team really needed and something they were willing to fight hard for," said Acting Head Coach, Kennedy Kereama.
"I think when a key leader is excluded from a program, it has a massive impact in many ways and probably in more ways than I can explain, but the one thing I do want to say is in terms of Coach Goriss is that he has built such an unbelievable eco-system here at this club.
"With the ownership and empowerment he's given to this playing group and his coaching staff, this group is prepared for these types of scenarios and that's the type of program that he's built here."
Bendigo did not go down easy, though, with Anneli Maley leading her team with an impressive 38 points and 11 rebounds.
The UC Capitals will enjoy some time over Christmas before heading to Townsville where they'll take on the Fire on New Year's Eve. They're back at home on January 5. To purchase tickets, click here.
For the box score, click here.