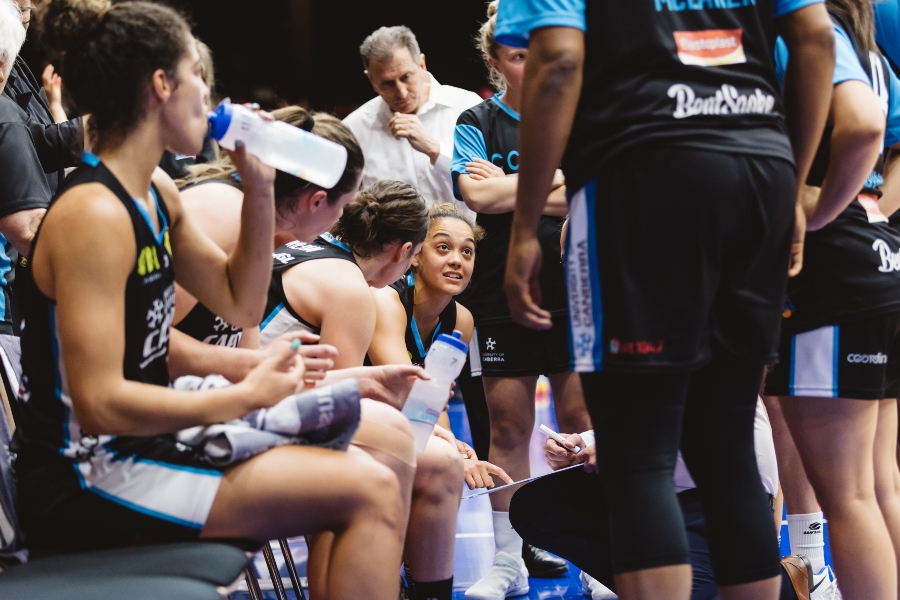 November 27, 2018 | UC Capitals news
The UC Capitals have entered Round 8 in a better place than ever after defeating the Melbourne Boomers in their final face-off for the 2018-19 season, securing the series split.
It's a strange notion to play the same team three times within the first seven rounds of the season, but those were the cards these two leading teams were dealt. After the Caps beat the Boomers in Round 2 and then falling short of another win in Round 3, the game on Friday could have went either way. In fact, even in the final 20-seconds of the game, neither the Boomers or the Caps had any certainty.
The Caps entered the match on a high coming off the back of thrashing Dandenong, Kelsey Griffin appearing in the WNBL Team of The Week for the fourth time, and a return to second-place on the ladder.
Yet, the Melbourne Boomers certainly didn't have the Caps feeling unstoppable. Their win against the league-leaders, Perth Lynx, and then Townsville Fire in a double header weekend solidified the idea that this was going to be a tough game for both sides.
Come half-time, the Boomers had taken a 12-point lead on the Caps and coach Paul Goriss had a lot to say about the team's defensive shortcomings.
In the last two quarters, the Caps turned things around, putting up 39 points compared to the Boomers 26-point second half.
The show-stopper was of course Kia Nurse's two-pointer that put the Caps in the lead with 18 seconds on the clock.
Kelsey Griffin, Kia Nurse and Maddy Rocci each put up 16 points, but it was Griffin with 18 rebounds that put her in the WNBL Team of The Week for the fifth time this season.
Now, the Caps are up for one of their most grueling weekends, travelling to Perth for a Friday night top of the table clash, and then Adelaide for a Sunday game. Hopefully the extensive travel won't hinder the Caps' chances at knocking the Lynx off that number one spot and then having to defend their top position.