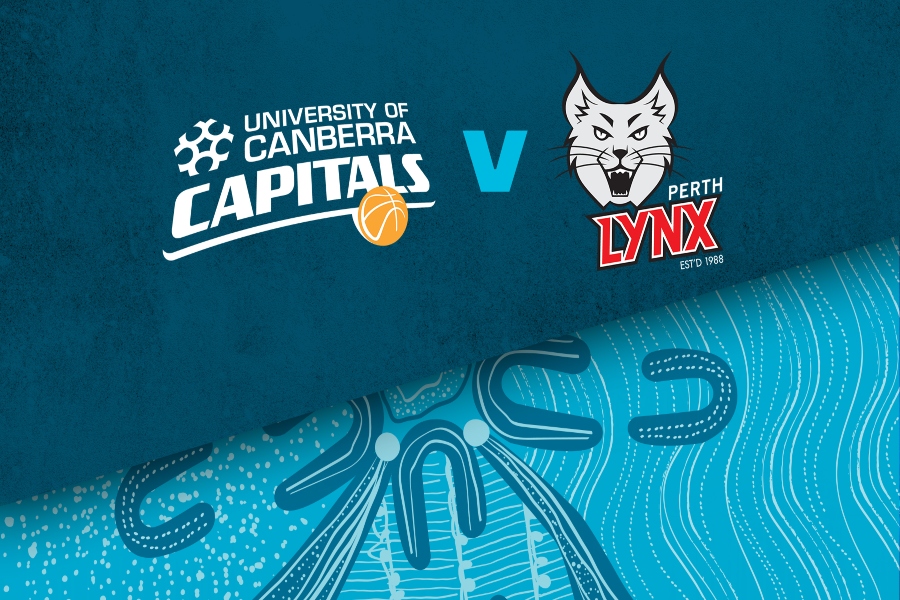 December 6, 2018 | UC Capitals news
The University of Canberra Capitals are proud to announce that Round 10 of the WNBL Season will be the club's inaugural Indigenous Round.
On Sunday, December 16, the UC Capitals will wear an Indigenous uniform based on the University of Canberra's Indigenous design treatment developed earlier this year from a collaboration with the UC Office of Aboriginal and Torres Strait Islander Leadership and Strategy and Aboriginal artists.
The decision comes from the UC Capitals efforts to align with its major partner, the University of Canberra, in terms of their commitment to leading Australia's Universities in equity, diversity, inclusion and access.
As part of this commitment, the University of Canberra will contribute – through education, research, and other activities – to the advancement of reconciliation, and to the building of just, prosperous and sustainable communities which are respectful of our local Aboriginal and Torres Strait Islander heritage.
Director of Sport and former UC Capitals coach, Carrie Graf, said that this is an important step in using the Capitals platform as a sporting club to recognise and highlight past and present Indigenous athletes.
"Like all former UC Capitals athletes, this group have a real sense of the platform that they play on and the privilege it is to represent Canberra on a national stage through sport. They can use that platform to speak about issues that are important to them, the club and the University," said Graf.
With two Indigenous players currently representing the Capitals, Leilani Mitchell and Abby Cubillo, the UC Capitals are endeavouring to acknowledge and celebrate the Indigenous contribution to the club, the WNBL and basketball more broadly.
Mitchell said that she has always been in touch with her roots despite being born and raised in the US, recalling that her mother always had Indigenous artwork and symbols in their home.
"As professional athletes, we are role models and people of all genders and races look up to us. It's not just about putting on the jersey for show – we're actually getting out to the community which I think is very important," said Mitchell.
As well as the team wearing Indigenous-designed uniforms, the UC Capitals will endeavour to engage the local Indigenous community through activations such as a jersey auction in which all proceeds will be given to an Indigenous NGO as well as a skills clinic with an Indigenous basketball team.
The UC Capitals are proud of its history and its roots to the Ngunnawal land and people and are excited to reflect that pride by dedicating a round to Indigenous people and culture.
Uniform reveal and more information to come. To buy tickets to the Indigenous round match, click here.