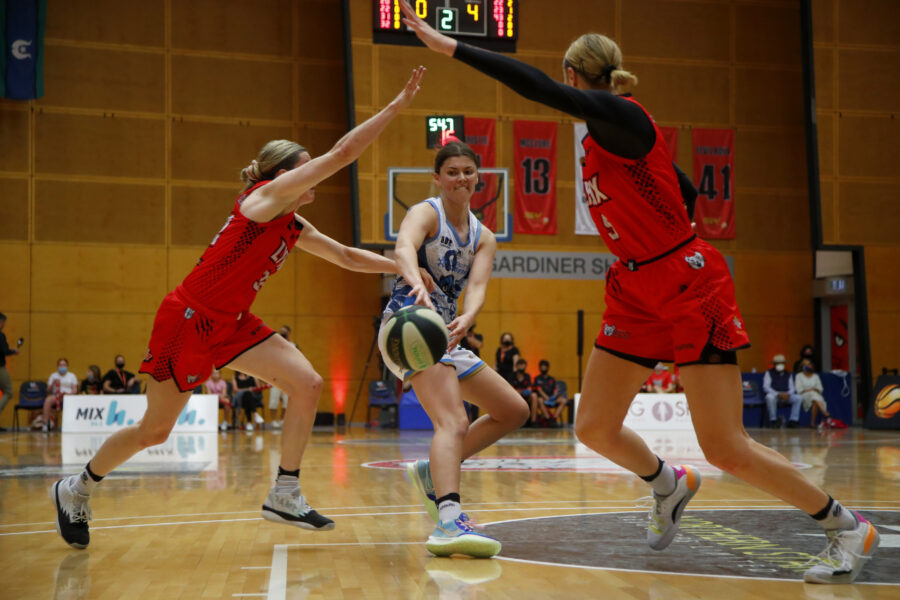 March 25, 2022 | UC Capitals news
The UC Capitals have not had the start to the Semi-Final Series that they'd hoped, going down to the Perth Lynx on Thursday night 77-91.
The two teams were all tied up at quarter time, but the Perth Lynx gained an 11 point lead by the main break that the UC Capitals couldn't quite recover from.
Sami Whitcomb put up a game-high 20 points and 11 rebounds, Marina Mabrey added 19 points and Jackie Young, Darcee Garbin and Lauren Scherf scored in double digits.
Britt Smart was right on target last night, leading the team with 18 points while Kelsey Griffin added another double double with 15 points and 11 rebounds. Tahlia Tupaea was a spark off the bench contributing 15 points and 5 rebounds.
"Perth were able to take us out of our flow," said Smart in the FOX Sports post-game press conference.
"We were a bit stagnant, maybe a bit slow with how the ball moved or how we moved on offence. I think we needed a bit more speed as far as cutting hard, you always cut hard whether you're going to get the ball or not, and set screens hard.
"Just little things that are in our control, I think that's what we'll focus on – what we can do to make ourselves better and compete."
Jade Melbourne limped off the court in the fourth quarter after suffering a thigh cork which will be assessed further to ensure she's healthy for Game 2.
The UC Capitals will head back to Canberra on Friday, where the team will focus on recovery before getting stuck into the fixes they need to make before they meet Perth again on Sunday.
To purchase tickets to the Semi-Final Game 2 on Sunday at the Southern Cross Basketball Stadium, click here.
To view the box score, click here.