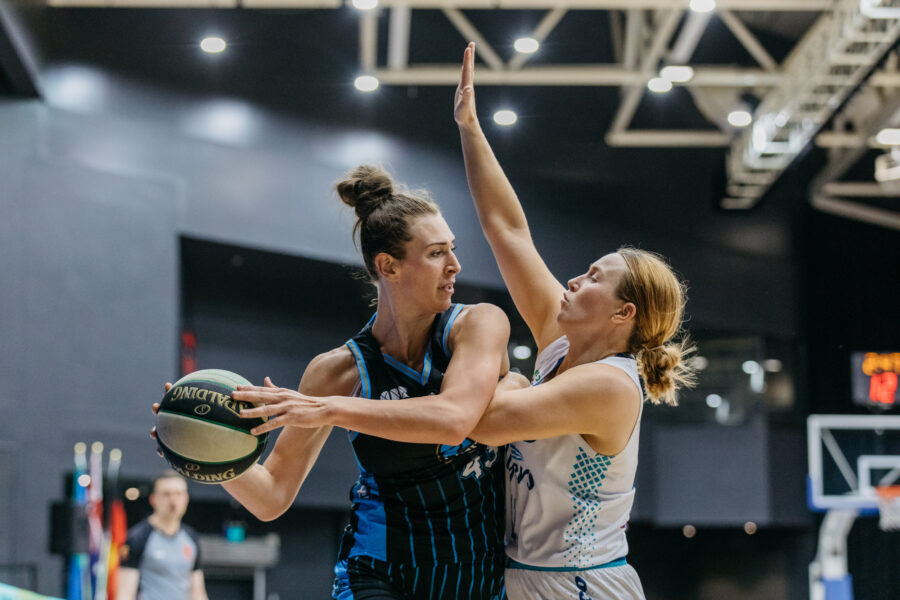 February 6, 2022 | UC Capitals news
The UC Capitals have extended their win streak to four with a 25 point win over the Southside Flyers, 94-69.
The Capitals got off to a hot start gaining an 8 point lead within the first two minutes and maintained control throughout, never losing their double-digit margin at each break, despite a slower third quarter that allowed the Flyers to chip away at the lead.
Alex Bunton had another standout game, putting up a double-double with 21 points and 13 rebounds. The Capitals once again displayed their depth with contributions across the board including Britt Sykes (16 points, 5 rebounds, 6 assists), Kelsey Griffin (19 points, 8 rebounds) and Kelly Wilson in triple-double territory (8 points, 8 rebounds and 10 assists).
Head Coach Paul Goriss said that while the team tries to only focus on a game at a time, stringing together wins and building momentum has been key.
"We know how important every game is with the new draw, the season being shorter and the games that we've lost, so we're trying to play our best basketball and climb the ladder and try to get into a first or second spot. So while these individual wins are important, it's trying to build some momentum and these four in a row was certainly a focus for us before we go away."
The Flyers were without key players Sara Blicavs, Kristy Wallace and Maddy Rocci as the trio along with their Head Coach made their way to Serbia with the Australian Opals.
Southside's Emilee Whittle-Harmon stepped up to lead her team on the scoreboard with 20 points and 6 rebounds as Bec Cole and Aimie Rocci put up 14 points apiece.
Goriss said that even without their full squad, he was cautious not to underestimate Southside.
"When you're playing a little bit loosely, you've got nothing to lose and that can result in shots that go your way and I thought Southside did a great job to hang in the game. Just our quality, depth and strength inside really was the telling factor."
As a COVID-19 precaution, Britt Smart also missed Saturday night's game.
Aside from a couple of games that will extend Round 10 into next week, the WNBL will now break for the FIBA pre-qualifying tournament. Round 11 will commence on February 17, when the UC Capitals will meet the Southside Flyers again at home.
Alex Bunton said that just because the team will have a few days off doesn't mean it's a break.
"It's a moment to refresh but we want to remind ourselves that it's not over, we still have the rest of the season to go and we're going to work just as hard. We'll have a couple of days to refresh ourselves and then get back into it."
To view the box score, click here.