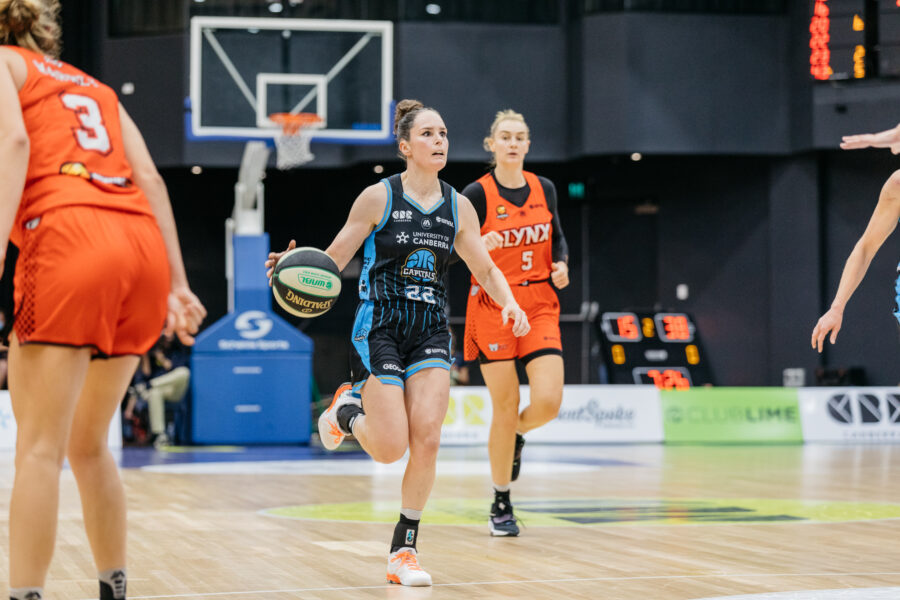 January 15, 2022 | UC Capitals news
The UC Capitals were outplayed by the Perth Lynx on Friday night, losing 69-88 in their first game of the series.
It wasn't the 400th game Kelly Wilson and her teammates wanted to cement the milestone as the UC Capitals struggled to find their rhythm from the jump.
The two weeks hiatus between games was evident for the Capitals, a sharp turn from the momentum they had started to build with back-to-back wins against Bendigo and Townsville.
Perth, coming off their first win against the Southside Flyers, got off to a hot start, creating a 19-point margin at quarter time.
Perth's shooting barrage only continued from there as five players put up double digits on the scoreboard, including Marina Mabrey who finished with 27 points, 6 rebounds and 4 assists.
The UC Capitals struggled to respond despite a double double from Britt Sykes (12 points, 11 rebounds, 4 steals) and Kelsey Griffin leading the way in scoring (15 points, 5 rebounds).
Acting Head Coach Kennedy Kereama said that it wasn't the result the team had worked hard for in training.
"By design our game plan was relatively sound, but did we execute it? Far from it, so these are the adjustments we have to make before we play them again."
Kereama conceded that losing Britt Smart after she was sent off for unsportsmanlike and tech fouls hurt the Capitals ability to bounce back.
"It was really tough after just making two threes back-to-back. I thought that was a real momentum moment for us, a crucial moment in that point in time. It was disappointing to lose Brit, she's obviously a really experienced player and our highest percentage three-point shooter, so it was a big loss for us."
Kelly Wilson said that her record-smashing 400th game wasn't her focus for the night.
"If I'm being really honest, I would have rather got the win. That's why I'm out here playing, I want to win games.
"Obviously that first quarter was terrible from our side. They've got some phenomenal scorers and we didn't do a great job of defending them.
"When our offence is stagnant and we're not scoring when we get stops, it's going to make it hard. We have to keep the scoreboard ticking for us to be in the game come quarter time and today we made it really hard for ourselves.
"We're competitive so we're looking forward to that next game – that's what it's all about."
The UC Capitals are off to Ballarat next week to meet the Perth Lynx again on Wednesday which will be their first of three games for Round 8.
"We can't complain about multiple games in a row because we've been sitting here for two weeks missing games and wanting to play.
"So that's what we're going into this Ballarat trip – we've got a couple games there and we get to come back home and we're not going to be complaining about games in quick succession," said Wilson.