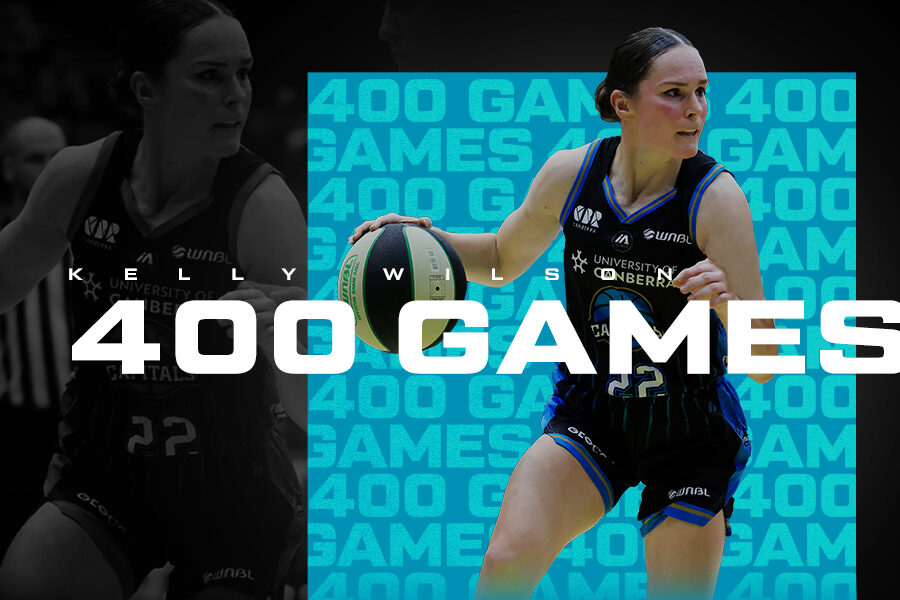 January 14, 2022 | UC Capitals news
Kelly Wilson has been on the verge of her 400th WNBL game for over a week now as three consecutive game cancellations due to COVID-19 has pushed the milestone out until today.
The only upside to the delays is that her 400th game now lands at home and she'll have the love and support of her fans to enjoy.
Wilson, humble as ever, said that breaking records or reaching new milestones was never a motivator for her to continue to play.
"If I'm being honest, it makes me a little uncomfortable because I've been around for so long."
"It was honestly not something that I considered at all. I just wanted to be out there playing and I'm so happy that the Capitals was supportive of the situation I was in at the time.
"I'd love to say that I just thought I'd come back and feel amazing straight away after being pregnant and having a child, but when I reflect and look back and think that this time last year I was watching the girls in the hub season, I was in no way shape or form to be running around on a basketball court. So to where I am now, I'm just super grateful that I've been able to get myself back in shape and be out there running around."
When Wilson looks back over her 19-year career, what stands out to her the most?
"Without a doubt the friendships and memories I've made.
"A lot of the games I don't remember, but I remember the lifelong friendships I've made, the connections I've made, and the people, whether that be the supporters, the coaching staff or even just those who have reached out and sent me well wishes… it's been phenomenal the people I've come across while playing.
When asked what the key to her longevity has been, Wilson points to her competitiveness, the people and her ability to adapt.
"I think I'm way too competitive for my own good, but there's no way I'd be playing now if I didn't enjoy the people I was surrounding myself with. I think that goes a long way in enjoying your basketball.
"I've been asked what my first game was and I have no idea, but in terms of the style of game, it's chalk and cheese from when I first started. It's changed so much, especially just over the past five years or so. One thing I have been able to do is to adapt and I guess that's why I am still out here playing now."
Longtime teammate and friend of Wilson, Kelsey Griffin, was less understated in her recognition of her achievement.
"Every game Kelly plays, she's breaking her own record.
"That's like Steph Curry, he's cemented himself as the greatest shooter in the NBA. You could say the same thing about Kelly that she's become one of if not the best players in the league simply because she's been able to put herself in a position to be playing elite basketball for 19 years and be such an important part of so many teams.
"There's been players who have had more accolades, individual recognition and made more money, but they haven't played as many games, they haven't put in 400 games."