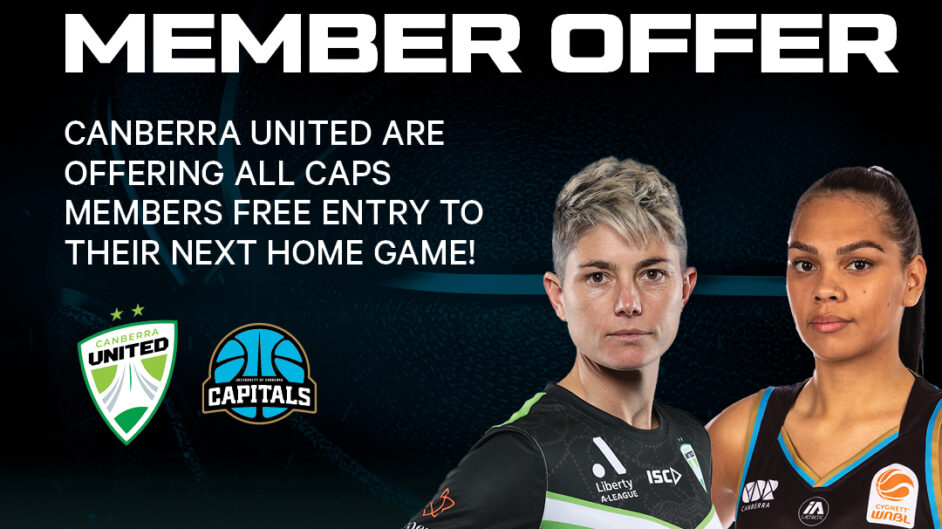 February 8, 2023 | UC Capitals news
The UC Capitals and Canberra United Football Club are offering their Members two games for the price of one this February, as part of a ticket offer between the two professional women's sports teams.
UC Caps members will get free entry to the Canberra United Liberty A-League match against Sydney FC at McKellar Park on Saturday 11 February 2023.
Similarly, United Green+ and Green, White and 5 game members will receive free entry to the UC Capitals' Indigenous Round game against Adelaide Lightning on Saturday 18 February 2023.
"Canberra boasts some of our countries leading sports teams which are a source of great inspiration and excitement for our members, supporters and the community at large," General Manager Lucille Bailie said.
"We're delighted to partner with Canberra United and can't think of many more exciting and inspirational activities to get the family along too. We know the Caps 6th player – our league leading and passionate Members and Supporters – will put in an MVP performance cheering for United and are sure United's supporters will return the favour!"
MATCH DETAILS
Saturday 11 February
Liberty A-League
Canberra United v Sydney FC
(McKellar Park, 3pm)
Saturday 18 February
Women's National Basketball League
UC Capitals v Adelaide Lightning
(National Convention Centre Canberra, 5:30pm)