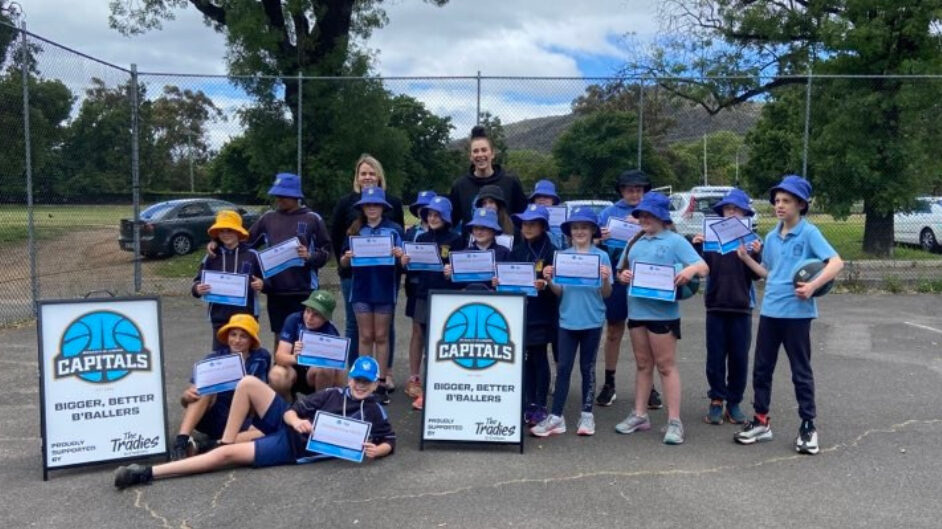 November 23, 2022 | UC Capitals news
350 primary school students have participated in the Tradies Hoops Program across Canberra's inner north, with plans to go bigger and better in 2023.
Delivered by UC Capitals players and coaches throughout October and November, it's been deemed a huge success, with the students enjoying and improving their shooting, defence, running and teamwork.
UC Capitals centre Alex Bunton said it's been great to see the young ballers build their confidence throughout the program.
"It's been amazing, all the school kids are so excited, and it reminds you that the community is part of what we do and who we are," she said.
"It's nice to see that inspiration come from a young age and you forget that they're the people behind us and they're the little trailblazers too so it's good to see them get involved.
"Sport is such a great thing for kids, to make friends and enjoy some fitness."
Heading out to Ainslie Primary School to watch some of the young students in action, General Manager of the Dickson Tradies Alison Percival said they will look to see how the program can be expanded, following its huge success.
"When we started talk with the Caps about reigniting our partnership, it was important that we also supported our inner north community as well," she said.
"The Hoops program evolved from that conversation, and it aligned with both of our objectives.
"The feedback we've had about the program is positive. It's really nice to hear that the students are excited and really enjoying it.
"It's been great to see how successful it's been in the inaugural year, and we will look to expand in years to come."