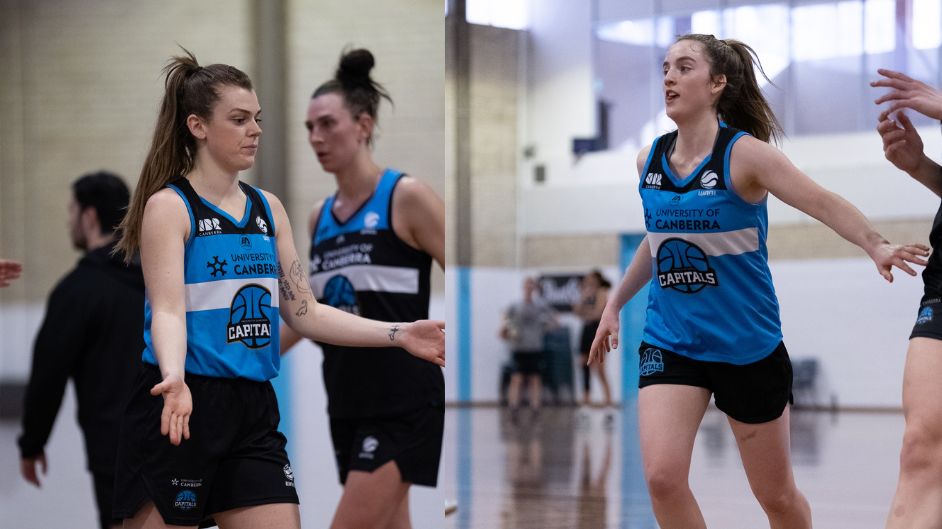 October 13, 2022 | UC Capitals news
The UC Capitals are pleased to welcome Abby Solway and Chloe Tugliach to the squad, signing on as development players for WNBL23.
Abby joins the Caps for her second season as a DP, after spending the WNBL off-season with the Canberra Nationals where she averaged 14 points per game with a free throw percentage of 67.6%.
The 19-year-old point guard said she is thrilled to be offered the opportunity for a second season.
"I'm very excited to back! It was a great opportunity last year, and I'm grateful that I have another opportunity to play with and learn from new teammates and a new coaching staff," Abby said.
"This opportunity means a lot. Having grown up watching the UC Capitals as a young kid, it's a huge honour to now be a part of the team and the club."
Chloe Tugliach joins the UC Capitals after impressing Head Coach Kristen Veal at the Development Player and Futures Day held in late September.
Chloe moved to the ACT in 2016 to play for the Canberra Nationals. Following a brief break away from the game, she returned in April last year.
"I was so overwhelmed when Vealy called me to offer me the spot, I got off the phone and looked at my boyfriend and just had a little happy cry! It's honestly a dream come true, and now having been around the girls and the coaching staff I am less overwhelmed and more just super excited to take everything in and learn as much as I can from them all."
Veal said the signing of the two DP's is a great way to round out the squad.
"After a strong season with the Canberra Nationals this year under the guidance of Adelaide Head Coach Nat Hurst, we are excited to have local talent Abby Solway take up a 2nd year as a development player with the Caps," she said.
"Abby is a dedicated young point guard, who has a great shot and a persistent defensive mindset.
"Coming off the back of the NBL1 season and after a strong showing at the recent Caps DP & Futures Day, we are so pleased to offer Chloe her first WNBL experience as a DP. Chloe brings toughness, versatility, and the ability to compliment the environment around her.
"Both Chloe and Abby are incredible teammates who are eager to learn, grow and contribute, and we couldn't have asked for better people to round out our squad."