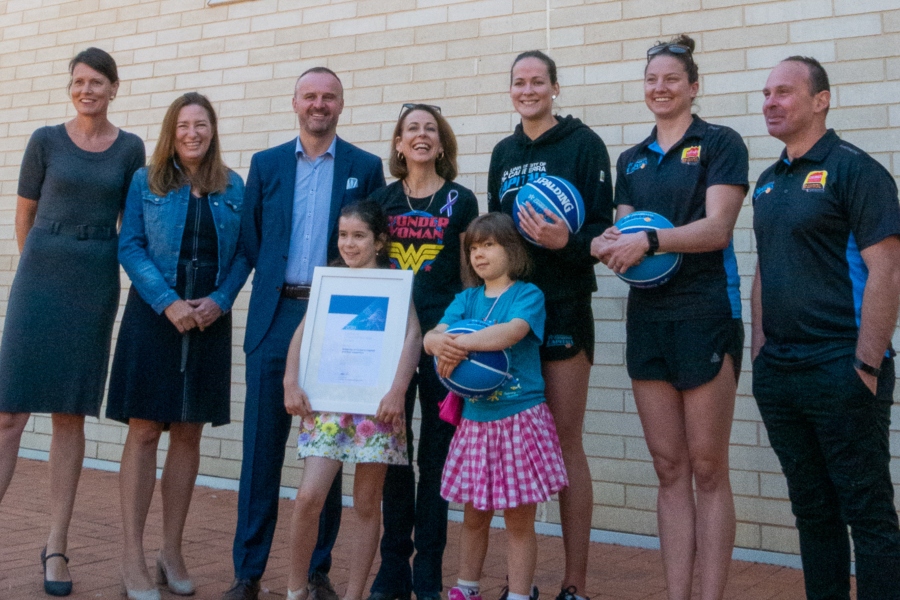 March 14, 2019 | UC Capitals news
The entire University of Canberra Capitals family, including their fans, were acknowledged as the 2019 Canberra Citizen(s) of The Year by ACT Chief Minister, Andrew Barr, on International Women's Day.
Coming off the back of a championship that had Canberra buzzing with excitement and pride for the Capital's most successful national sporting team, Kelsey Griffin, Keely Froling, Paul Goriss and Lucille Bailie accepted the honour on behalf of the club.
Griffin said that the award reflects the outstanding community support the UC Capitals receive.
"I feel that although we have accepted the award, it's a lot bigger than us and our club. We care about the community and the community cares about us so it's very humbling," said Griffin.
The award recognises the UC Caps' "exceptional teamwork and spirit as well as their community of supporters who spurred them to victory" and notes that the "club's efforts are an inspiration for all Canberrans, and the players are great role models for young people in our community".
"The word 'role model' gets thrown around a lot, especially with athletics and being a sportsperson, but you know you're doing the right thing when you get awards like this," said Griffin.
"We try and to be acknowledged for it is really nice and something I take a lot of pride in because I know being a role model is a responsibility I have playing sport for a living."
The UC Capitals were also joined by Sports Minister Yvette Berry, Director of the 50/50 by 2020 Foundation Virginia Haussegger, Vice Chancellor of the University of Canberra Deep Saini, and the UC Capitals' #1 Ticket Holder Daliah Lee.