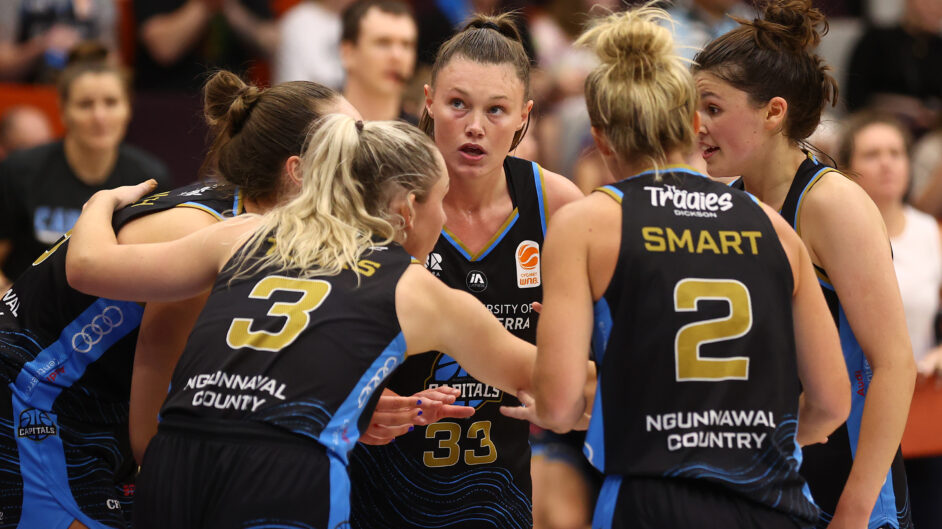 February 2, 2023 | UC Capitals news
In their first match-up since November, the UC Capitals went up against the Adelaide Lightning in front of 1186 home fans.
Starting for the Caps was Jade Melbourne, Bec Pizzey, Rae Burrell, Nicole Munger and Liz Tonks. The visitors brought on Isabel Borlase, Steph Talbot, Jacinta Monroe, Lauren Mansfield and Marena Whittle.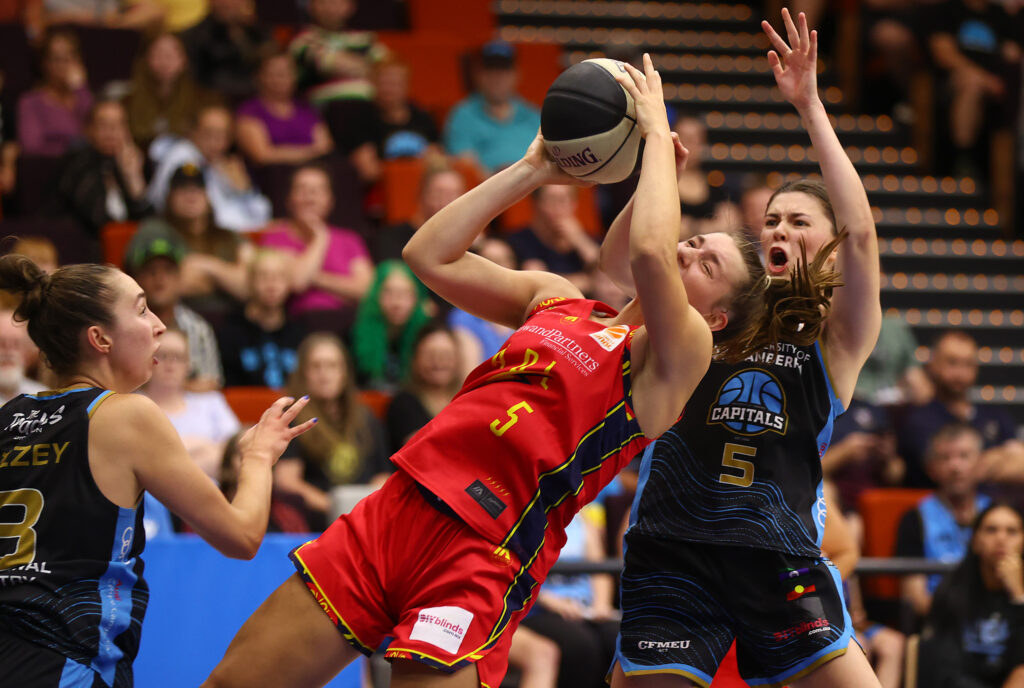 Q1
Adelaide won the jump ball, and it was Borlase who opened the scoring with a three-pointer. Not to be out-done, the home side hit back in style with a three-pointer of their own from Tonks. This was the start of a tight contest, but Melbourne made sure to get her team fired up and Burrell's fancy footwork resulted in some points for the Caps. Up the other end, it was Borlase who continued to run the ball down and score for Adelaide. Halfway through the quarter the scores were still locked as both teams stepped up to play some close defence. It was the visitors who managed to pull ahead first and take a seven-point lead off the hands of Talbot. The Caps refused to let it phase them, with Britt Smart subbing on to score a three-pointer and bring the margin back. It was the home team who had the last say of the quarter, when off a steal the Caps got it to Melbourne to score a three-pointer right on the buzzer.
Caps 23 – Adelaide 25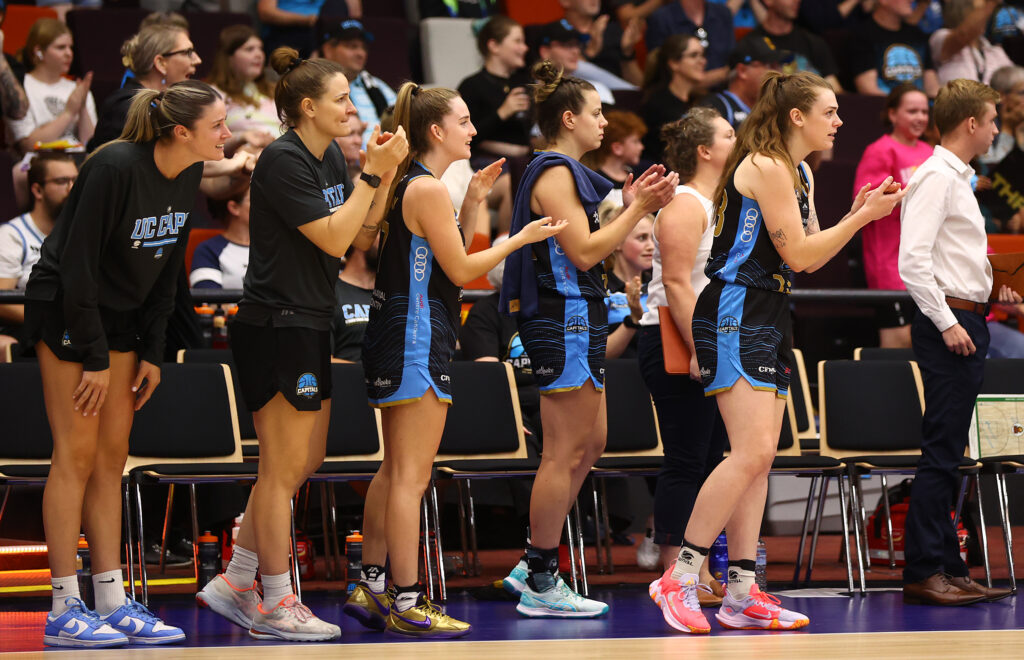 Q2
The second term started again with Tonks hitting a three-pointer to steal the Caps the lead. The game continued goal-for-goal as both teams took their time to find the basket. Talbot continued scoring for Adelaide but the Caps were the ones who took the lead after Tonks hit a three-pointer for her team. Soon after Smart sunk one of her own and the Caps were ahead by nine-points. Burrell worked hard in defence and earned multiple blocks as she managed to keep Adelaide from scoring. The visitors added some height to the court with Monroe subbing back on to score some points down low. The Caps hit their biggest lead of the game two-minutes before half-time when another three-pointer from Smart put them ahead by 11 points. To end the first half, Burrell converted two foul shots before Talbot dropped two of her own to bring the margin to 12 points.
Leading the Caps was Burrell with 14 points, Tonks and Smart both on 9 points each. For Adelaide it was captain Talbot who lead with 9 points, followed by Borlase on 8 points.
Caps 45 – Adelaide 33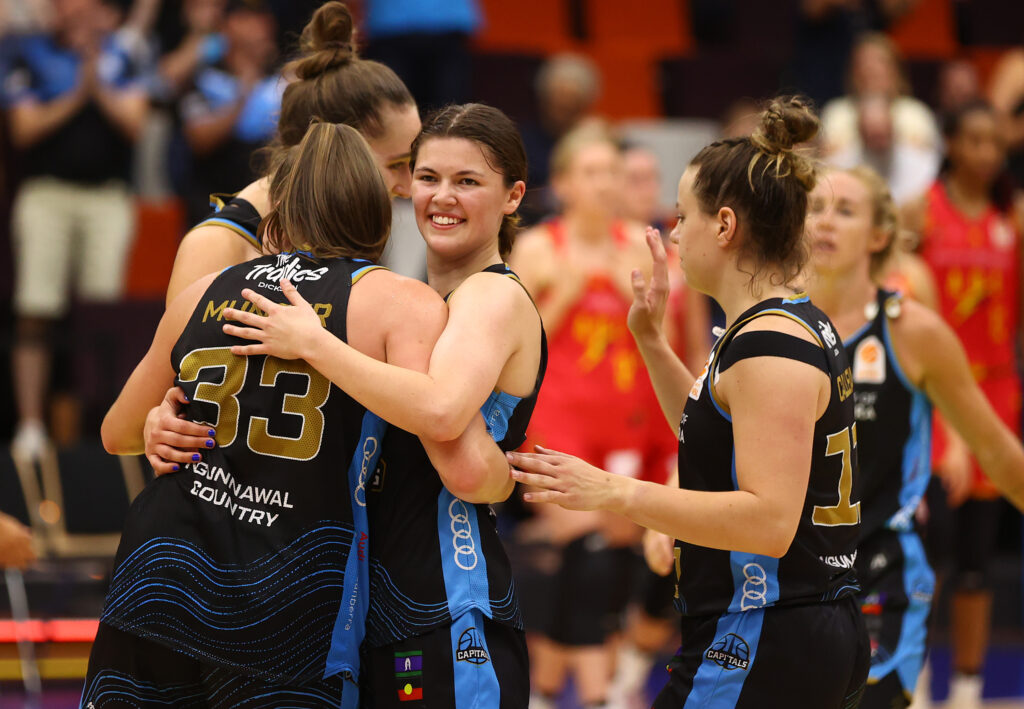 Q3
Coming back from the main break, Monroe started the scoring with a successful layup and accompanying foul shot. The home side were still liking their chances from long-range, with Pizzey and Melbourne both hitting a three-pointer to keep their lead. Talbot continued to light the spark for Adelaide, adding both points and rebounds to her name. Half-way through the quarter the Caps started to come together as a team and become a menace in defence, earning themselves multiple steals from Adelaide. The Caps crowd made their voices heard as their team held a 14-point lead. Both teams remained physical, with Adelaide entering into bonus shots, which Whittle managed to convert. Melbourne came off to rest with thirty-seconds remaining after knocking her head in a clash with Whittle.
Caps 63 – Adelaide 57
Q4
Despite being down Adelaide were far from out, as Talbot came back on to start the final quarter by dropping a three-pointer. The roar from the crowd carried the Caps on as Munger hit a three-pointer of her own, but Adelaide weren't going away. With four-minutes to go, Borlase scored to level the game once again. Monroe and Talbot kept up their performances for Adelaide, but nothing could beat Melbourne chucking up a three-pointer right as the shot clock went off. With sixty seconds remaining, a steal from Smart resulted in another point as she converted a free throw to extend the Caps lead to three points. Off the back of a timeout, Borlase stepped up and scored a three-pointer to level the game with 15 seconds remaining. A charge call against Melbourne meant that Adelaide got possession back but lost it with an illegal screen. Four-seconds left on the clock and the Caps were unable to score, sending the game into overtime.
Talbot converted two foul shots for Adelaide, before Smart hit a three-pointer for the Caps to give the home side a one-point lead. Talbot continued her scoring run for Adelaide, but Melbourne's energy couldn't be contained as she assisted Pizzey before scoring a two-pointer of her own to put the Caps ahead by five with one-minute remaining. Adelaide did all they could to foul and slow the game down but it wasn't enough to stop the Caps from earning their second win of the season.
Melbourne finished on 21 points and 11 assists, Burrell and Smart both had 18 points each. For Adelaide, Talbot ended with 33 points and 17 rebounds, followed by Borlase on 21 points.
Caps 97 – Adelaide 90