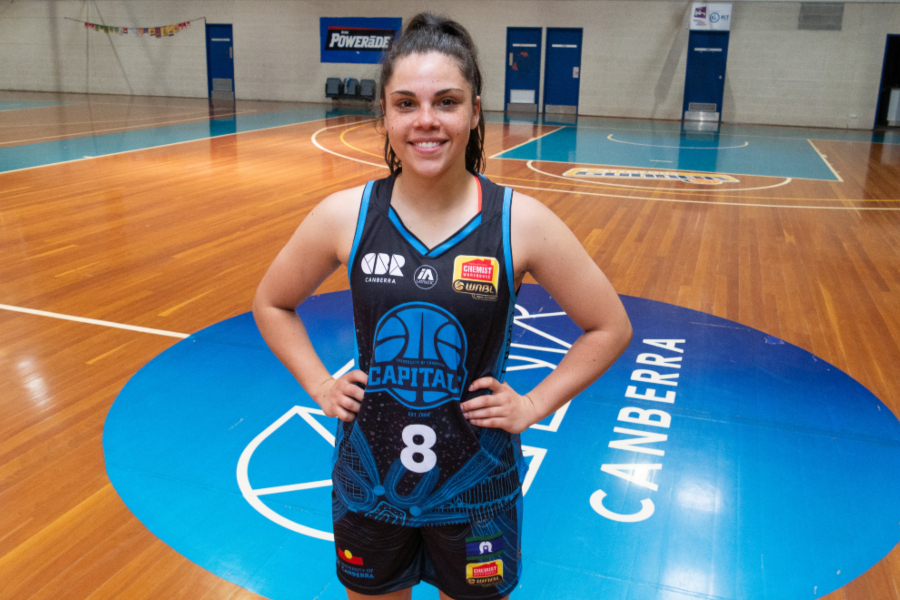 October 30, 2019 | UC Capitals news
As the UC Capitals revealed their 2019 Indigenous uniforms, the club announced their commitment to an annual Indigenous basketball scholarship.
The scholarship has been created to help make basketball more accessible to young members of the Indigenous basketball community.
This year the scholarship will be funded by the club donating $1 from every ticket sold for Saturday's Indigenous Round game against the Sydney Uni Flames as well as $10 from every Indigenous jersey sold.
Former coach and Director of Sport at the University of Canberra, Carrie Graf, said that it's great the UC Capitals continue to use their platform to promote inclusivity.
"Cost can be one of the barriers to participation and we hope the creation of this scholarship can help remove that.
"There are so many talented Indigenous athletes out there and we hope this can inspire them to pursue basketball," said Ms Graf.
This season's Indigenous uniform design is an adaption from the club's inaugural Indigenous Round strip, using the same elements that pays homage to the significant place and role that Aboriginal and Torres Strait Islander peoples, cultures and histories have within the University of Canberra.
The Indigenous treatment incorporates an artwork painted by Lynnice Church, a Ngunnawal/ Wiradjuri/ Kamilaroi artist. It reflects the importance of forming strong partnerships and working hand-in-hand with the community to achieve lasting impacts.
Each element within the design uncovers integral parts of the UC story that celebrates diversity and inclusive relationships. Through this approach, UC acknowledges the principles of respect, trust, diversity, unity, collaboration, innovation and celebrating the inclusive future the University is building together with Aboriginal and Torres Strait Islander peoples.
The Indigenous design project was initiated in February 2018, by the UC Office of Aboriginal and Torres Strait Islander Leadership and Strategy in collaboration with Gilimbaa, an Indigenous creative agency specialising in culturally effective and appropriate communication strategies and design for the government, non-profit and corporate sectors.
"The uniforms look amazing and strongly link back to the University of Canberra and the local Ngunnawal Community through stunning artwork of Ngunnawal woman Lynnice Church," said Dean of Aboriginal and Torres Strait Islander Leadership and Strategy at UC, Professor Peter Radoll.
The UC Capitals will proudly wear the Indigenous uniforms this Saturday for Round 4 of the WNBL 2019-20 season as they play the Sydney Uni Flames who will also be wearing their Indigenous strip that they unveiled in Round 3.