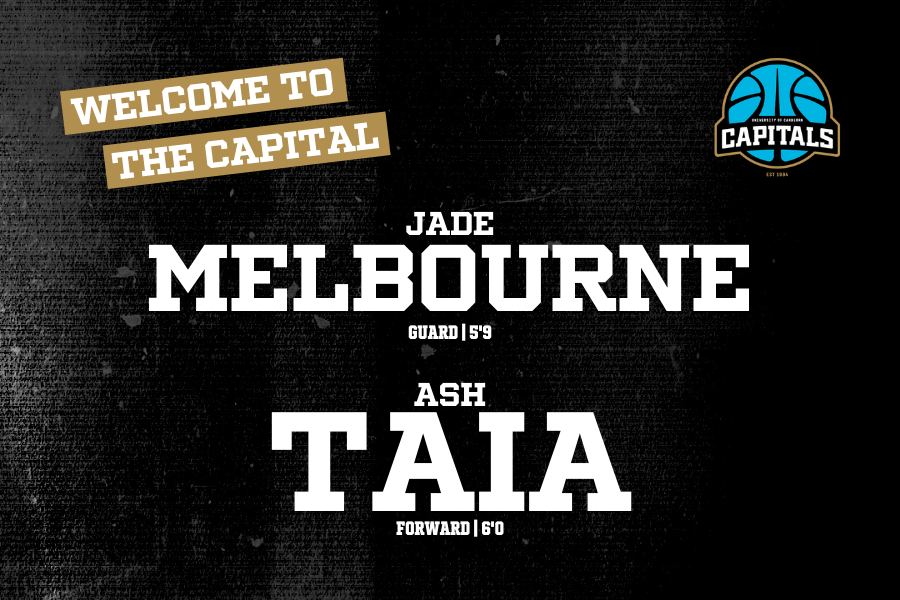 November 3, 2020 | UC Capitals news
The University of Canberra Capitals have finalised their roster for the upcoming Chemist Warehouse WNBL season with the additions of Ashley Taia and Jade Melbourne.
Taia has recently spent time playing alongside UC Caps forward Mikaela Ruef with the Logan Thunder as they went undefeated in the Queensland State League season. Known for her athleticism and outside shooting, Taia averaged just under 12 points per game per game to go along with 5 rebounds and 3 assists.
Taia had a stint with the Adelaide Lightning in the 2018/2019 season and is looking forward to again testing herself at the WNBL level.
"I got a lot of confidence contributing to a title up in Queensland this offseason so am now looking forward to testing myself further in the WNBL. The game is much faster and the athletes are much better and I think that suits me nicely. I'm looking to contribute to the team and look forward to being a part of the culture of the UC Capitals."
Head coach Paul Goriss is looking forward to seeing what Taia can contribute.
"I had my eye on Taia last season and with her playing with Mik during the offseason it means she comes in with some links to the team already which is great from a chemistry point of view. I like what she can bring to the group as an athlete and she can stretch the floor for our bigs."
A current Basketball Australia Centre of Excellence scholarship holder, Jade Melbourne, has represented Australia at the junior level. The speedy point guard has committed to attending the University of Arizona State next year but will test her skills as a rookie in the Chemist Warehouse WNBL season in Queensland.
"I'm super excited to have the opportunity to play in the WNBL at such a young age. It will give me the experience I need looking forward to college and to have that opportunity with the current champions should speed up my development. Getting to learn in the environment that the Capitals provide, and to learn from leaders and veterans such as (Marianna) Tolo and Kelsey (Griffin) is amazing."
Goriss believes that Melbourne has what it takes to play for Australia in the future and is looking forward to seeing her compete.
"Jade is one of the best young prospects in Australia so I'm thrilled that we could have her join our group. She isn't here to make up the numbers – she will certainly get opportunities."
"For someone like Jade it's all about energy every time she steps on the floor. We aren't expecting her to score 20 points a game but I have no doubt she will play hard and contribute in many ways."
The team heads to Queensland on Friday where they will have just under a week to finalise preparations before game one on Wednesday, 11 November.