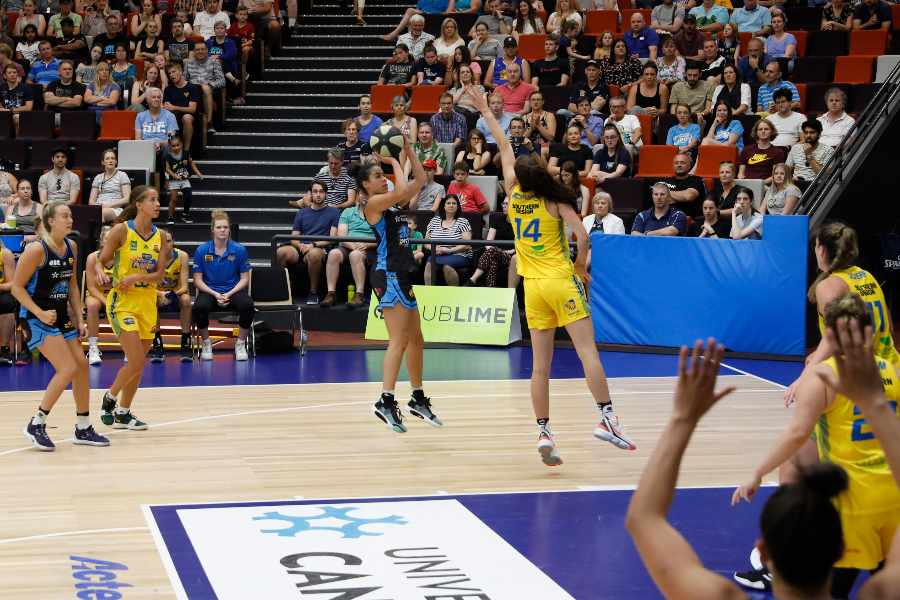 January 27, 2020 | UC Capitals news
The UC Capitals have won their fourth game in just 10 days with a 16-point victory over the Sydney Uni Flames.
Despite the Flames' three-point lead in the first quarter, thanks to strong defense from the home-side, Sydney only managed 12 points in the second compared to the Capitals' 21.  The UC Capitals then continued to control the second half from there, taking the win 82-66.
Kia Nurse led all scorers with 25 points while Kelsey Griffin contributed an impressive 26 minutes off the bench with 20 points and 7 rebounds. Griffin's buzzer-beater at the end of the third quarter had the NCCC roaring with excitement which said it all about her return.
With Griffin's increased court time as she eases her way back from injury, Marianna Tolo was able to find some reprieve after playing three games on intensive minutes as the team's only big.
The Flames, who are missing Colleen Planeta and Alice Kunek, did not make the win easy for the UC Caps, though, as Brittany Smart managed 21 points for the Flames followed by Jessica Kuster with 17.
Head Coach Paul Goriss was proud of the way the team overcame an exhausting period.
"We don't ever like to make excuses, but it's been a rough patch for us with the amount of games and travel in that amount of days. Coming off those two huge wins against Melbourne and Southside, I thought today's game was going to be a bit of a grind and fatigue would have set in.
"The girls did a great job of making sure we stayed with the scout and hung in there and you want those kind of games in the back end of the season. You don't just want to be up by 20 and doing it easy, you want to be challenged and Sydney have challenged teams all the way through this season. Credit to them with the people they've got out."
The UC Capitals now have one last game of the regular season as they play the Adelaide Lightning at home. To purchase tickets, click here.