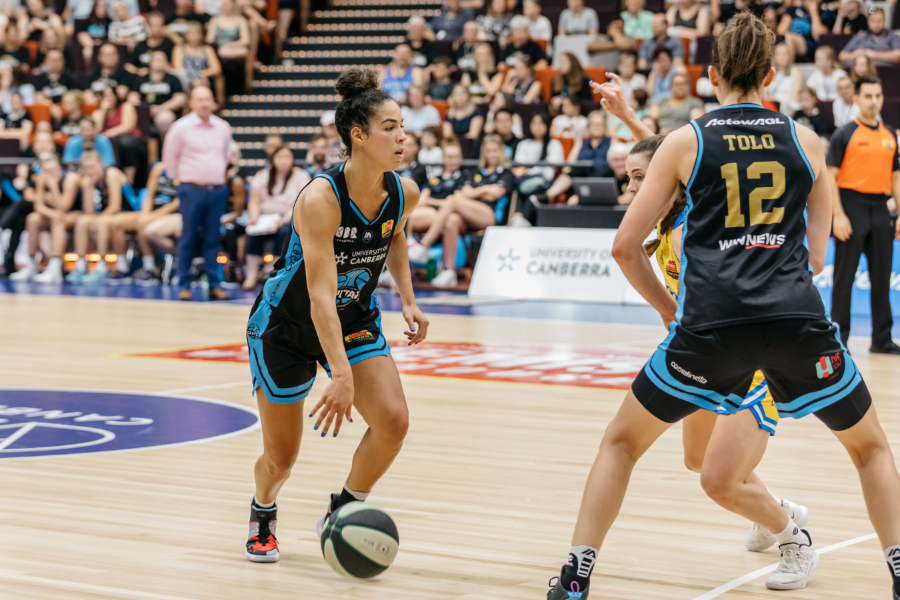 December 29, 2019 | UC Capitals news
The UC Capitals have bounced back from a disappointing loss to Adelaide on Friday night with a 17-point win over Perth two days later.
The Capitals were forced into overtime by the Adelaide Lightning in their first clash since Round 1. Despite outstanding performances by Marianna Tolo with a double-double consisting of 22 points and 12 rebounds and Olivia Epoupa with 7 points and 12 rebounds, the UC Caps ultimately fell 66-76.
The Capitals then travelled west to meet the Perth Lynx where they found their rhythm and gained a significant lead over the Lynx by the second quarter. Perth played catch up in the third but it wasn't enough as the UC Caps continued to dominate, earning the win 76-59.
Three of the UC Capitals starting lineup finished with double-doubles, Marianna Tolo (21 points and 10 rebounds), Keely Froling Froling (14 and 11), and Olivia Epoupa (10 and 14), who was also three assists away from a triple-double. Kia Nurse also had a big game, leading all scorers in points with 23.
With the Melbourne Boomers win over Townsville, they now sit equal to the UC Caps in second place on the ladder as the competition continues to get tighter.
The UC Capitals will spend the next week preparing for another double header starting with a trip to Bendigo to take on the Spirit and ending with another clash against Perth at home. To purchase tickets to Sunday's game at AIS Arena, click here.