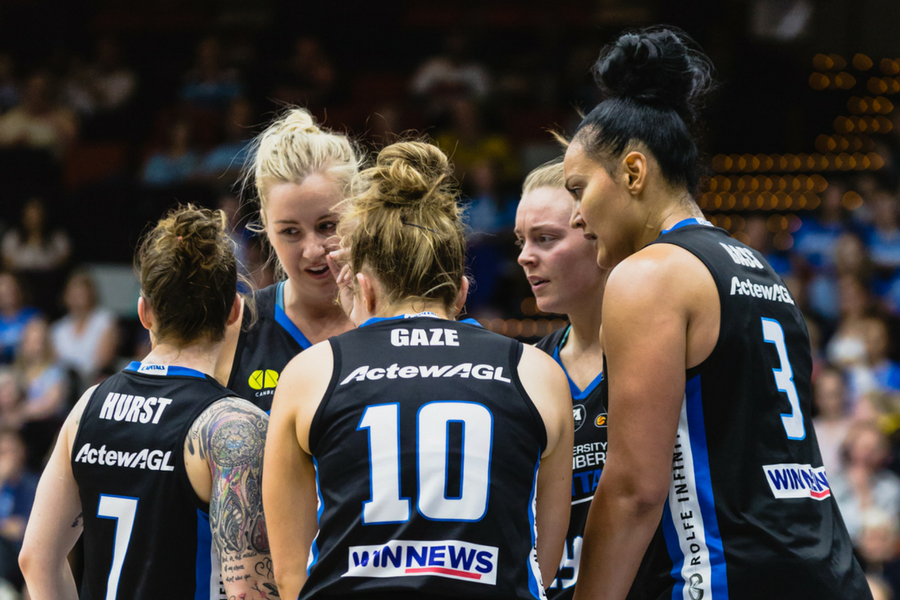 November 6, 2017 | UC Capitals news
The University of Canberra Capitals have gone down to the Sydney Uni Flames in front of a vibrant home crowd at the National Convention Centre Canberra, 72-81, last Saturday afternoon.
The UC Capitals have won only two games so far in the 2017/18 WNBL season and sit last on the ladder, after back to back losses to Sydney Uni Flames this week.
The Flames overpowered the UC Capitals in their Thursday night loss in Sydney 81-62 before their rematch on Saturday afternoon in Canberra, with the visitors winning by nine points.
In their Fox Sports Australia televised match on Saturday afternoon, the UC Capitals began the first quarter against the Sydney Uni Flames with plenty of skill with Rachel Jarry opening the account with two points and a steal. Keely Froling continued to impress the crowd with three points and two rebounds, along with Mistie Bass's four points off the bench. Captain Nat Hurst also started strong with five points in the first six minutes of game-time.  The home side went into the second quarter leading 19-15.
The second quarter proved tough for the visiting side with Jordan Hooper dominating the court scoring back to back 3-pointers to keep UC Capitals fans on the edge of their seats. The UC Capitals went into the break 36-34, with Bass and Hooper combining for 15 points off the bench to answer Asia Taylor's 10 points and Belinda Snell's five points, five rebounds and three assists.
The third quarter saw both sides increase their physicality on the court with Hurst and Froling on fire as they continued to shoot 3-pointers and continue the home court advantage. The dying moments of the quarter saw the Sydney Uni Flames sneak ahead by one point going into the final term 55-56.
In the final quarter, the UC Capitals couldn't keep up with a rapid firing Flames outfit going down in a seventh consecutive loss.
Head coach Paul Goriss remains adamant that his side can turn their mid-season slump around by working towards a four-quarter performance.
"It was a hell of a fight and the girls never say die and never gave up," Goriss said.
"Once again we are a team of three-quarters we just need to string that consistency together and if we do that we can really make some noise in the league."
Captain Nat Hurst reiterated what Goriss said and added that her side will still strive towards winning matches and playing well for their fans.
"There's a lot of belief, there's a lot of trust, and the group is together," Hurst said.
"We take losses hard but there's no fractures within the group. With travel, with recovery, with practice, there's always great energy. We'll continue that."
The UC Capitals will begin their month of road-trips starting with their match against Perth this Saturday night and then Melbourne the consecutive weekend.
SYDNEY UNI FLAMES 81 (Asia Taylor 29, Belinda Snell 14, Katie Ebzery 11) bt
UC CAPITALS 72 (Natalie Hurst 13, Jordan Hooper 12, Rachel Jarry 11) at National Convention Centre.
COMPETITION WNBL 2017/18 VENUE National Convention Centre GAME DETAILS Tip-off: 3:00 pm 4/11/17 ATTENDANCE 567
Next Home Game: UC Capitals v Sydney Uni Flames, National Convention Centre Canberra. Tip-off: 7:30pm, Thursday 7th December.
Tickets: bit.ly/2fhQQ3t
Photography: 5 Foot Photography
Credit: Jaylee Ismay