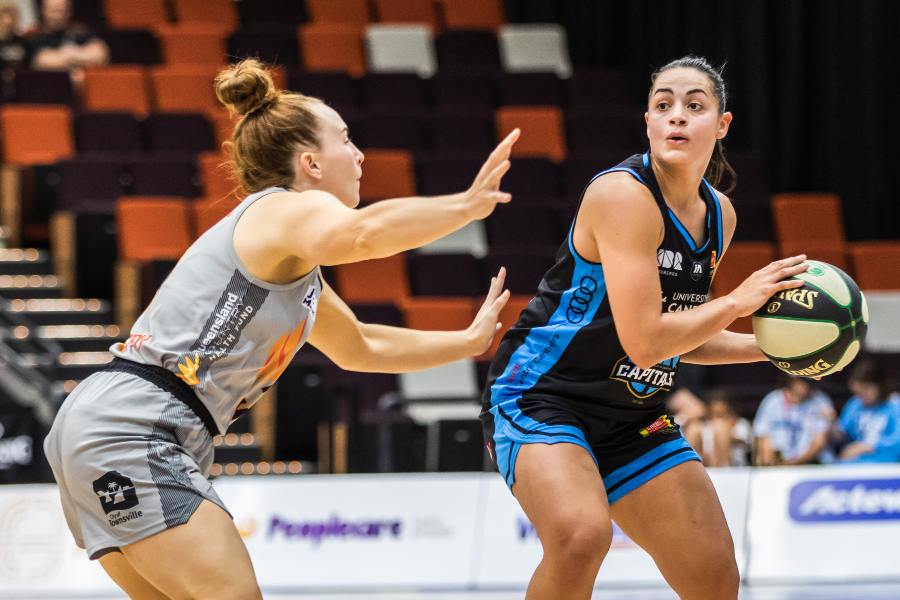 January 12, 2020 | UC Capitals news
By John Robinson IV
After an upset loss against the Bendigo Spirit, the University of Canberra Capitals found themselves in a must-win match-up against the Townsville Fire.
Canberra was off to a bad start, trailing 4-14 four minutes in. Tess Magden proved to be an early issue for the Capitals as she showed a complete inside-outside game with 8 points in the early going of the first quarter. However, the Capitals would quickly turn up their urgency and cut the lead down to 5. 
Steals forced by Kia Nurse and Olivia Epoupa helped spark the Capitals comeback. Marianna Tolo cut into the lead being a force in the interior, while also showing off her mid-range jumper. After an up and down quarter for the Capitals, they found themselves down by 4 points heading into the second.
The Capitals opened the second quarter with more defensive prowess holding Townsville to multiple scoreless possessions. The teams traded baskets, but Townsville still held serve with a 5 point lead.
Major baskets by Townsville's Bridget Carleton would put the Capitals down by 8. Although, Kia Nurse would answer with an "and-1" bucket that would lessen the dent made by Carleton. An unfortunate unsportsmanlike foul on Epoupa sparked a run by the Townsville fire, capped off by a buzzer-beater three-pointer by Carleton. At the end of the second quarter, the UC Capitals would find themselves down 36-49 to the Fire.
The Capitals looked to reset in the third as Nurse scored the Capitals first points of the quarter but they would quickly be answered back by the Fire. The Capitals would have to overcome a 14-point deficit, but the shooting of the Fire would make it a difficult task. Despite a surge of shooting by Nurse, the Fire would immediately answer back pushing the lead back to 13. The quarter would end with the Fire up 68-55.
The shooting of the Fire would continue to be the story of the game as their three-point shooting barrage extended Townsville's lead out of reach for the UC Capitals. Shooting 61.5% from the three became too great for the Capitals to overcome as the final score came to 69-102.
The UC Capitals will now return to Canberra to prepare for a double-header against the Melbourne Boomers and the Southside Flyers.