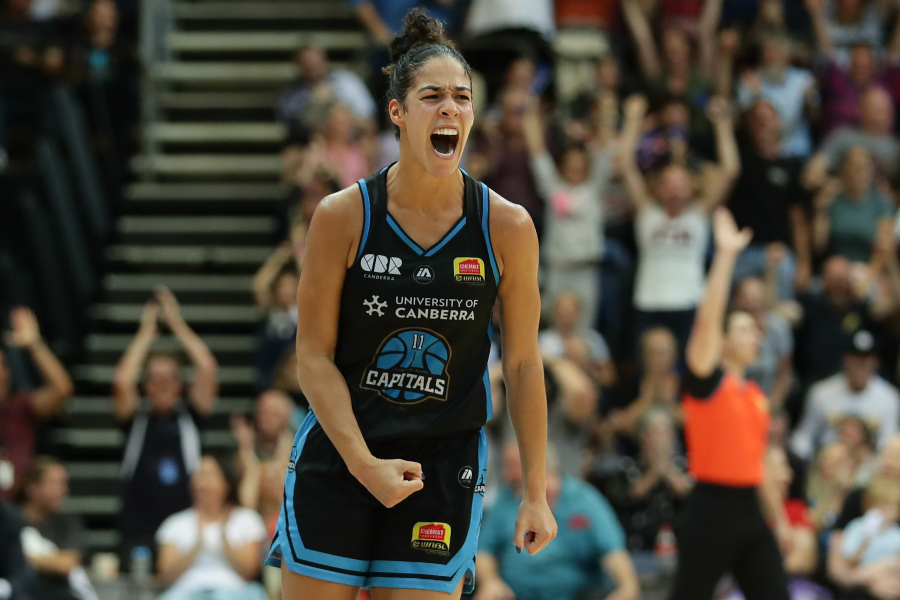 March 11, 2020 | UC Capitals news
UC Capitals import Kia Nurse has departed her home away from home for the past two years and is en route back to Canada.
Her departure comes the day after claiming the UC Capitals' Most Valuable Player award to top off an outstanding second season in the WNBL.
A fan favourite, Nurse made her mark in Canberra and in the league most notably for her three-point shooting and entertaining style on the court that fed into crowd's excitement. A three was always followed by a celebration, a wry smile or an impassioned roar.
"People tell me I play a very flashy game. I was never flashy until I got here. I didn't play with the swagger and confidence until I got here, and I just continued to grow and that made a difference when I went back to the WNBA last," said Nurse.
In just two years, she became a two-time champion, the first import to receive the Suzy Batkovic Medal awarded to the league's MVP and she led the league in average points per game and three pointers made this season.
However, her off-court impact was nothing short of remarkable as fans donned her jersey, created posters and lined up for signatures and photos in love and support.
Nurse will spend a month in Canada before she goes to New York City where she'll join a production team covering March Madness. Then, she'll once again suit up to begin the WNBA season with the New York Liberty and, of course, for the Tokyo Olympics with Team Canada.
Nurse will not be returning to the UC Capitals next season as she takes up other business opportunities in the United States and Canada.
"For me, I know my career isn't anywhere close to being over. I think it's sad to leave Canberra and to leave the girls and I think if it wasn't more lucrative for me to stay home then I would be back, but I have to make a living."
After an intense start to her basketball career, Nurse looks forward to spending more time at home.
"We play this game because we love the sport but it's tough to go overseas for so many months and be away from my family and everything that's happening.
"It's a pause for now. Obviously, I still have WNBA and Canada Basketball but this body has been going year-round since Year 7 so it's about time I give it a break."
The UC Capitals wish Nurse all the best in her next endeavours and thank her for her invaluable contributions over the past two years.