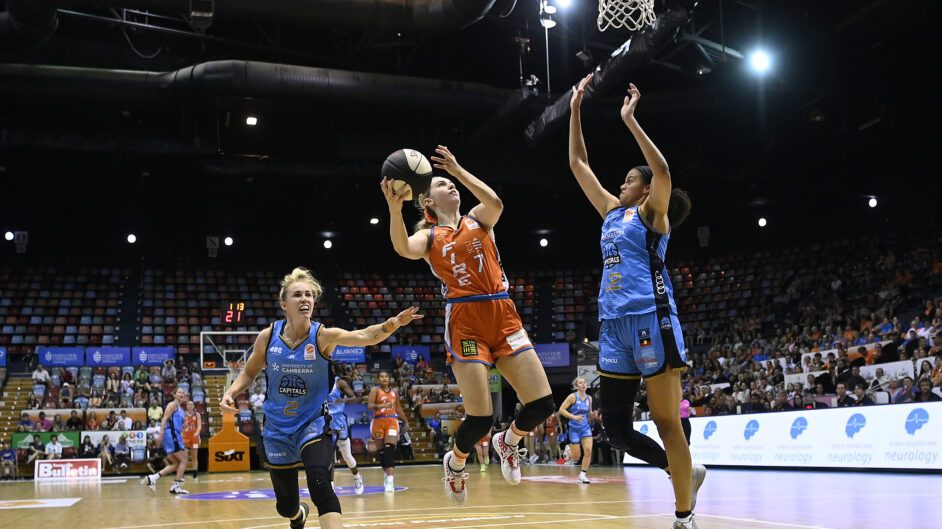 November 6, 2022 | UC Capitals news
The UC Capitals have finished round one with a 36-point loss to Townsville on the road.
Townsville was all over them defensively in the opening ten minutes, finishing the quarter at 41-16. The Caps did well to bounce back for the following two periods, holding off Townsville well before some fun basket to basket play. While the Caps looked to be closing down on the margin in certain moments, the Fire ran away with it, with captain Lauren Nicholson top scoring with 35.
WNBA import Rae Burrell gave us glimpses of what a fully fit Rae can produce, with 14 points by the half time break.
Dekeiya Cohen recorded another double double with 14 points and 11 rebounds while Jade Melbourne again showed great vision throughout, threading the ball through in important moments to finish with four assists and eight points, before she hobbled off the court in the final minutes of the third quarter with a suspected ankle injury.
Head Coach Kristen Veal told the team they needed to focus on the little things and to bring the energy for the final minutes of their first weekend on road but there was little they could do to stop the home team, finishing the game with 68 points, to Townsville's 104.
The UC Capitals will now travel back to Canberra, and prepare for their round 2 game against Perth Lynx on Saturday 12 November.