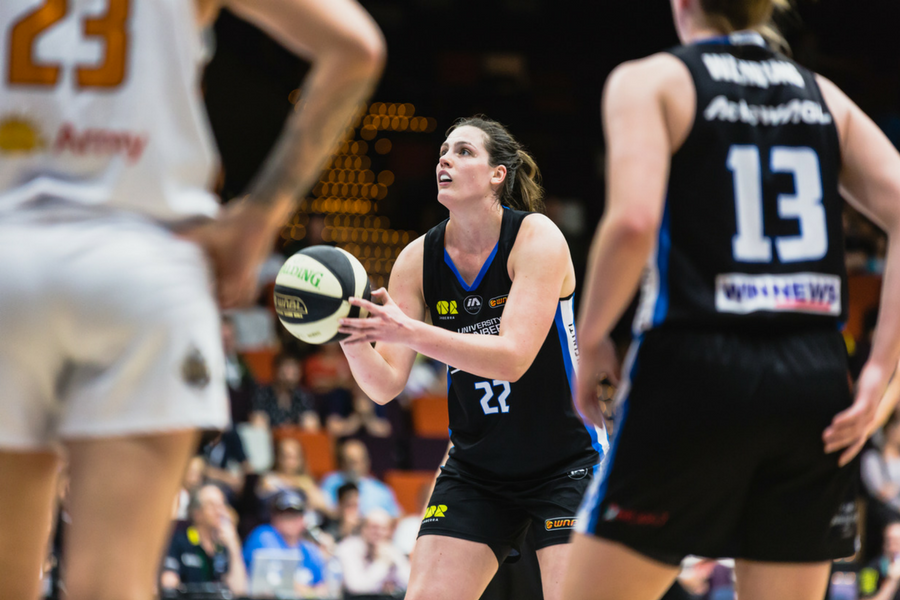 October 29, 2017 | UC Capitals news
The University of Canberra Capitals went down to the JCU Townsville Fire in front of a home crowd at the National Convention Centre Canberra 83-68, last Friday night.
The UC Capitals sit 7th on the ladder at the end of round four, after a devastating run of close losses.
The home side began the first quarter against the JCU Townsville Fire with plenty of excitement, with Lauren Scherf winning the jump along with Keely Froling securing the first 2 points for the UC Capitals. Mistie Bass also contributed with 7 points in just under five minutes of court time to see the home side go into the second quarter in the lead, 29-24.
The visiting side hit back in the second quarter with centre Suzy Batkovic causing havoc for Mistie Bass. However, Nat Hurst demonstrated her leadership scoring two 3 pointers within 30 seconds of each other along with four assists to keep the UC Capitals in the lead heading into the break 48-43.
The third quarter saw both sides battle it out with intense physicality and prowess. The UC Capitals felt the pressure of a relentless JCU Townsville Fire, as the visiting side went ahead on the scoreboard by three points, 63-66 going into the final term.
In the final quarter, the UC Capitals shot just 2-24 field goals while Suzy Batkovic ensured the JCU Townsville Fire ran away with the 15-point win.
After playing three games in six days the UC Capitals will look towards turning their season around with two back-to-back games against Sydney Uni Flames this week. The first match-up will see the UC Capitals hit the road and play the 2nd placed team in Sydney on Thursday night before traveling back to Canberra to verse on Saturday afternoon at the NCCC.
This Saturday afternoon will also be the UC Capitals first televised match of the 2017/18 WNBL season. The match will be broadcasted on Fox Sports ahead of the 3pm tip-off on Saturday.
JCU Townsville Fire 83 bt
UC CAPITALS 68 at National Convention Centre.
COMPETITION WNBL 2017/18 VENUE National Convention Centre GAME DETAILS Tip off: 7:30 pm 27/10/17 ATTENDANCE 652
Next Game: UC Capitals v Sydney Uni Flames, National Convention Centre Canberra. Tip-off: 3pm, Saturday 4th November.
Tickets: bit.ly/2fhQQ3t
Photography: 5 Foot Photography
Credit: Jaylee Ismay