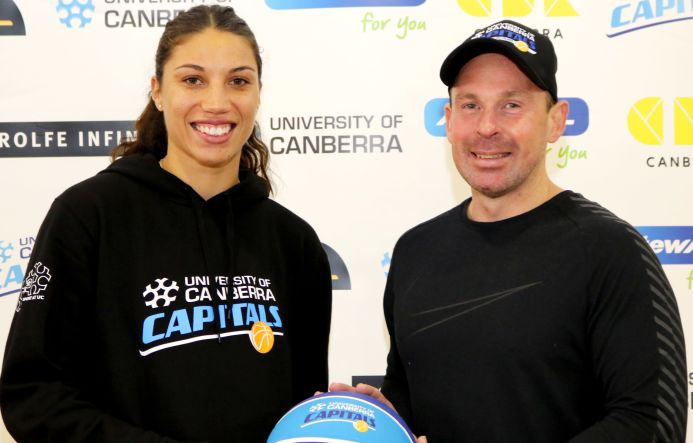 September 19, 2017 | UC Capitals news
UC Capitals lure Kiwi international across the Tasman
WNBL championship winner and New Zealand international Chevannah Paalvast has put pen to paper with the University of Canberra Capitals for the 2017/18 WNBL season.
Paalvast has inked a one-year deal to play her third season in the WNBL in the nation's capital.
The 26-year-old arrives at the UC Capitals after two seasons with the Townsville Fire – the club she won a championship at during her maiden season in 2015.
Paalvast recently wrapped up her commitments with the Mackay Meteorites in the 2017 Queensland Basketball League. She said it was great to be back on the court and gelling with her new teammates.
"I heard great things about the UC Capitals and I couldn't wait to join," Paalvast said.
"I hadve heard nothing but positive stories about the team and this was reinforced by the way they have welcomed me in."
Paalvast said coming to Canberra and playing under  head coach Paul Goriss would accelerate her development as a player.
"For me, it was about personal development as I wanted to keep playing and I had heard so many wonderful things about Gorrie," she said.
"I thought he would be a really good coach for my development."
Goriss said Paalvast would provide the necessary depth to propel the side to great heights in 2017/18..
"What always stood out to me was her defensive ability and her athleticism, and that was an area we still needed to work on," Goriss said.
University of Canberra Capitals Squad: Nat Hurst, Maddi Rocci, Kate Gaze, Abbey Wehrung, Rachel Jarry, Keely Froling, Jordan Hooper, Ezi Magbegor, Lauren Scherf, Mistie Bass, Callie Bourne and Chevannah Paalvast.
By Jaylee Ismay