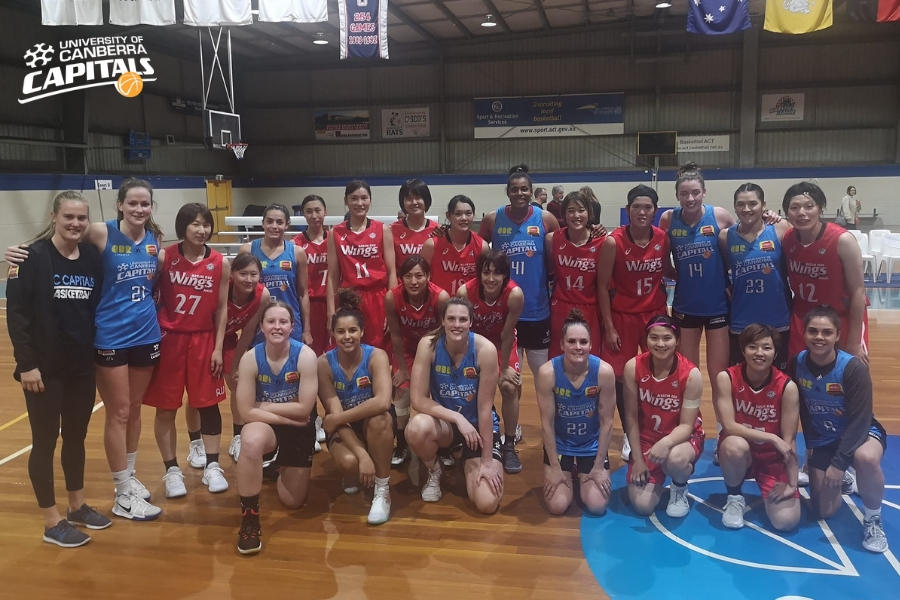 September 26, 2018 | UC Capitals news
After an overtime loss in a closed scrimmage the previous night, the UC Capitals bounced back to take a 1 point win over Aisin AW Wings at Belconnen Stadium.
Receiving her Capitals Academy SEABL MVP award pre-game, Keely Froling showed a strong Tuesday night crowd that she is ready to improve on last years season. She lead the UC Capitals who were still missing a number of key players in Kelsey Griffin (hamstring), Leilani Mitchell (foot), Marianna Tolo (knee), Kristy Wallace (knee) and Kia Nurse (FIBA Women's World Cup).
In a tight affair that saw the UC Caps lead for the majority of the game but never extending the lead to double digits, Froling kept the statisticians busy with 20 points and 10 rebounds whilst new Capitals import Kaili McLaren was also strong with 15 points and 8 rebounds.
Kelly Wilson was also strong running the point as she had an impressive 14 points to go with 6 assists in a workmanlike performance over 38 minutes.
To make up for the absences of 5 players, local junior and Centre of Excellence scholarship holder Isabelle Bourne along with teammate Kobe King-Hawea, with Bourne particularly impressing defensively.
The UC Capitals will now focus on preparing for the opening game of the season where they will travel to Sydney to take on the Sydney University Flames on the 12th of October.
There is still time to secure your UC Capitals membership and be part of something BIG! Click here and purchase a membership prior to October 1 to go into the draw to win the 'Big Ticket' competition and get the chance to drive an Audi for a day!