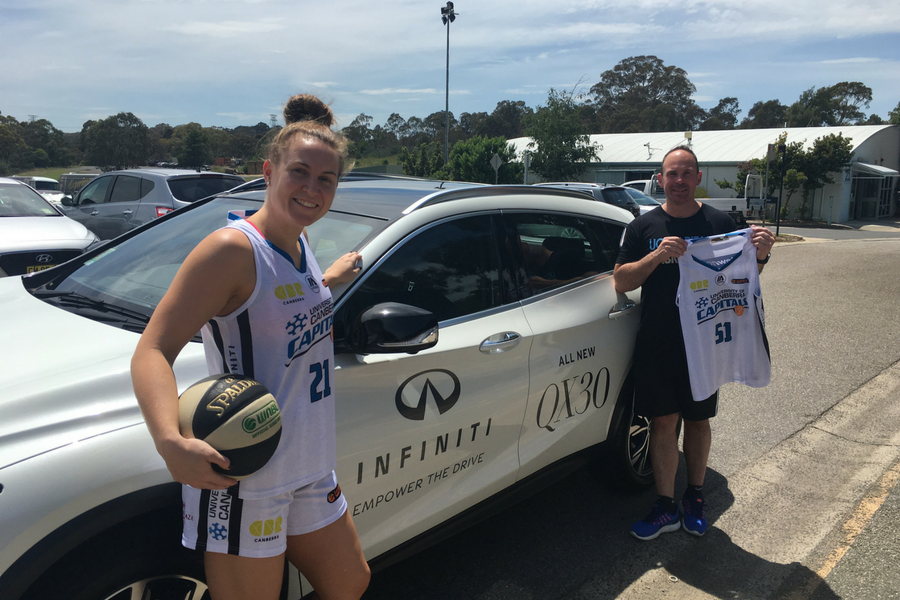 December 19, 2017 | UC Capitals news
Sponsored by Rolfe Infiniti, the UC Capitals will don their specially designed Membership jersey for the first time this season when they take on JCU Townsville Fire, on Thursday night.
The jersey features the names of all 2017/18 UC Capitals members to commemorate their support in purchasing a season ticket and as thank-you for their continued encouragement.
The inspiration behind the membership jersey stemmed from the desire to connect with new and returning supporters following a year that saw the club move to their new home court at the National Convention Centre Canberra and a land-mark television deal.
UC Capitals player Keely Froling said she will be thrilled to wear the new strip in a way to give back to the teams' supporters and sponsors.
"Obviously it is to say a huge thank you to our members as they are such a driving force behind this club and a wonderful way to show support along with thanking Richard Rolfe with Rolfe Infiniti who is one of the UC Capitals major sponsors," Froling said.
Head coach Paul Goriss says it's the perfect opportunity to wear their new membership jersey as the UC Capitals are hot from their three-game winning streak.
"It is a great initiative with Richard Rolfe and it is a brilliant way to pay homage to all those people who come to our games every week and are true believers in the UC Capitals," Goriss said.
"It is exciting for us to give something back to our fans and members."
Tickets: bit.ly/2fhQQ3t
The Rolfe Infiniti membership jerseys and replica jerseys went on sale at the beginning of the season and are no longer available. However, you can purchase a black replica jersey online at the WNBL store. https://wnblstore.com.au/
Details:
University of Canberra Capitals vs JCU Townsville Fire
Times:
Thursday December 21st
Doors will be open at 6:00 pm for tip-off commencing at 7:30pm.
Location:
National Convention Centre Canberra
31 Constitution Avenue, Canberra ACT 2601
Credit: Jaylee Ismay