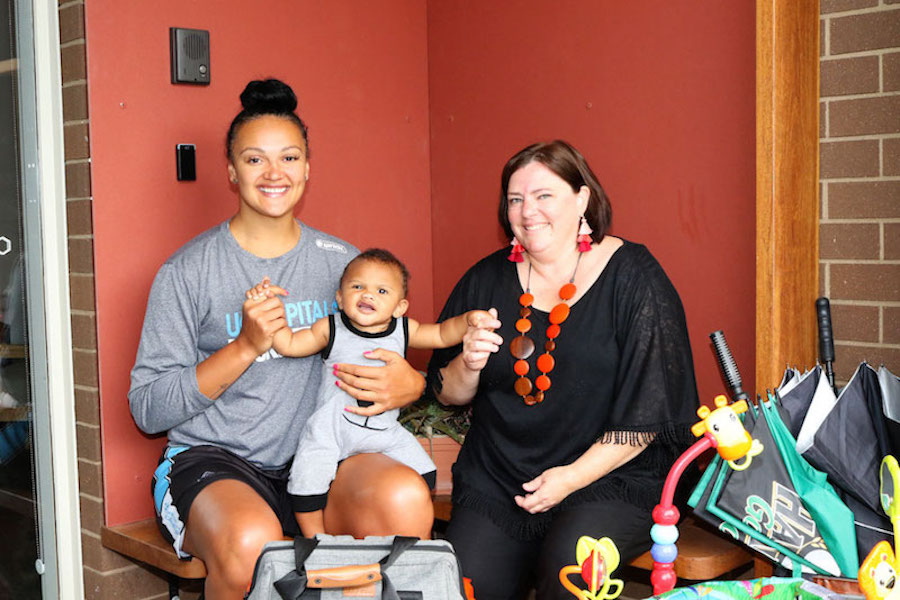 January 12, 2018 | UC Capitals news
University of Canberra Capitals import Mistie Bass and her son Braven have visited community based organisation Karinya House to donate baby clothes and toys before returning home to the United States.
The WNBA title winner said Braven had outgrown a number of items of clothing and she wanted them to go to mothers in need.
"For me, it was really important to be able to give clothes and things in need for babies, free of charge," she said. Not everybody is able to buy baby clothes, and I wanted it to go to families that really need it."
Bass said she has enjoyed her time in Canberra with son Braven, but getting back on court had been a challenge.
"It was one of the hardest things I've ever done, but I'm really happy I came here and tested myself," she said. "This country is amazing, I've loved it far beyond basketball."
Karinya House Senior Caseworker Catherine O'Halloran said community support was vital and thanked Mistie for her donation.
"To be able to give mums beautiful clothes and toys that they wouldn't necessarily be able to afford is extremely important," Ms O'Halloran said. "It's hard enough to be a mum, but it's extremely hard without support."
Karinya House supports over 500 pregnant and parenting women and their babies in the Canberra region each year. Eleven pregnant or parenting women live on site and an additional 40-50 outreach clients also supported.
Interim UC Capitals General Manager Lucille Bailie described Bass's gesture as a three-pointer.
"Mistie embodies everything that the UC Capitals represent," Ms Bailie said. "She's a wonderful athlete but she's also a mum and appreciates value of supporting other mums."
"Our athletes are wonderful sportspeople but they are also mums, sisters, our nieces, friends and our partners. Mistie understands being a mum can be a tough gig and she's supporting other mums at Karinya House and the fantastic work that they do."
To donate to Karinya House please visit their website.