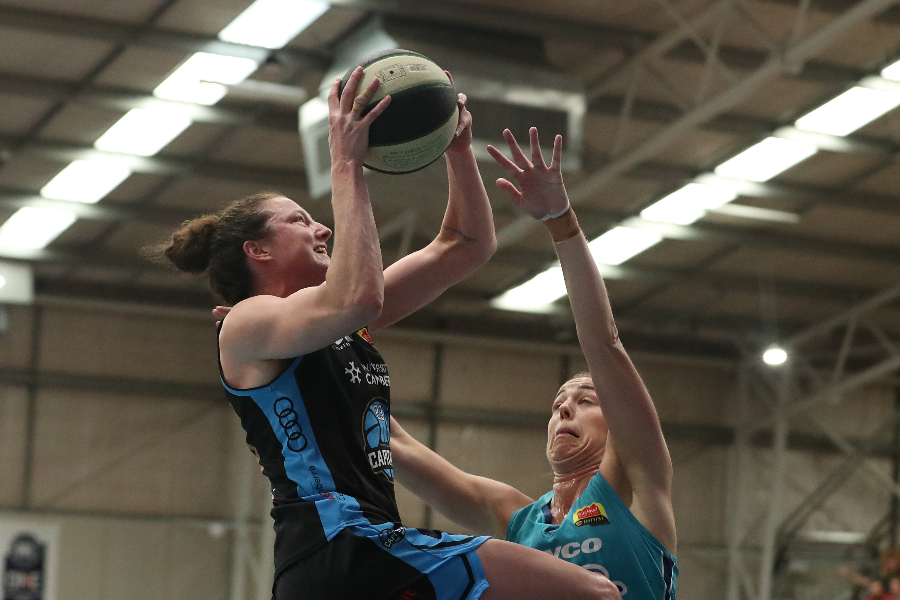 March 2, 2020 | UC Capitals news
The UC Capitals could win a back-to-back championship in front of their home crowd on Wednesday night after defeating the Southside Flyers in Game One of the Grand Final Series.
It went down to the wire with just two points separating Canberra from the home side with over a minute to go, but thanks to their defensive stops, Capitals took the win 82-80.
The Capitals started the fourth quarter with a six-point deficit after the destructive shooting of Bec Cole, Leilani Mitchell and captain Jenna O'Hea, who played her first game in six weeks.
Cole, in particular, shot 18 of her total 23 points within the first half.
"She's a tremendous player who has had a great season and is really an elite scorer so that was a focus at halftime – limiting her points in the second half," said Head Coach Paul Goriss.
Kelsey Griffin admits that the team wasn't their usual selves to begin with.
"There was some nerves in that first quarter and we missed some easy baskets – I know I personally did. I think we made some great defensive adjustments in the second half and it was a great team win."
Momentum shifted in the Capitals' way when Olivia Epoupa got two offensive rebounds after back to back three-point attempts by Kia Nurse. The third dropped, bringing the Caps back ahead. From there, the team's high-quality defence kept Southside from scoring any points in the last two minutes.
"When we play good defence, that's our calling card. We definitely had some lapses in the game but down the stretch, in order to close out games and win a championship, you have to play great defence and rebound the ball," said Griffin.
Nurse led the team with 19 points, Griffin finished with a double-double consisting of 18 points and 12 rebounds and Epoupa almost did the same with 14 points and 9 rebounds.
While the Capitals feel a sense of relief finishing with a head start in the series, Griffin knows they cannot get ahead of themselves.
"We need to learn from our last series where we went in 1-0 to Melbourne and Melbourne came out and proved they wanted it more than us in game two.
"We've got a big task ahead – closing out games is one of the hardest things to do, we learned about it last year in Adelaide."
The UC Capitals will play the Flyers in game two on Wednesday, 7:30pm at AIS Arena. To purchase tickets, click here.