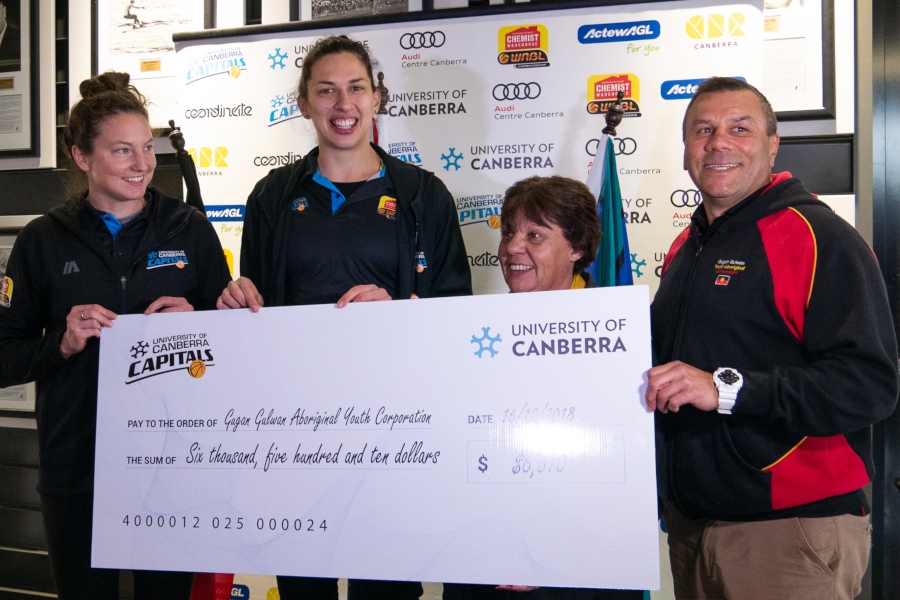 May 29, 2019 | UC Capitals news
The University of Canberra Capitals have raised $6,500 for the Gugan Gulwan Aboriginal Youth Centre after auctioning off the Indigenous jerseys and encouraging donations.
The auction lasted 12-days and gave fans the opportunity to bid on the match-worn player jerseys from the club's inaugural Indigenous Round game on December 16 during the 2018/19 WNBL season.
UC Capitals partner, Simon Rolfe from Kamberra Indigenous Cleaning, also generously contributed $1,500 to the donation.
General Manager of the UC Capitals, Lucille Bailie, said that she is extremely proud of Indigenous contribution to the club and the opportunity to give back to the community.
"Sport has a tremendous platform to be able to make an impact so it's important we use that platform responsibly.
"Donating 100% of the proceeds to support the important work of Gugan Gulwan is another way for us to demonstrate our club's values of inclusiveness and diversity and to recognise and celebrate the Indigenous contribution to our club and local community," said Ms Bailie.
Executive Director of Gugan Gulwan Youth Aboriginal Corporation, Kim Davison, thanked the UC Capitals for their efforts in raising funds from the Indigenous Jersey auction.
"Gugan Gulwan is delighted to be the beneficiaries of funds raised by the auction.
"The organisation deals with some of the most disadvantaged youth in the Canberra region and there are never enough funds to meet demand.  The funds raised are welcomed by the organisation and will definitely be utilised to assist young people and their families," said Ms Davison.
Co-captain Marianna Tolo's jersey had the highest bid of $1,180, followed by WNBL MVP Kelsey Griffin's jersey at $700.
The auction featured the jerseys of most players including Abby Cubillo, who is an Aboriginal Australian.