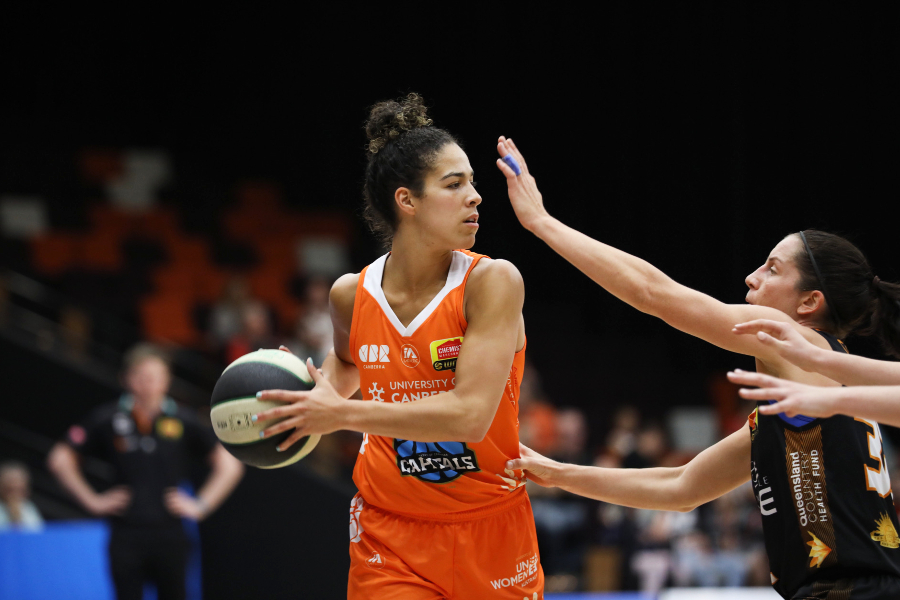 November 30, 2019 | UC Capitals news
By John Robinson IV
The UC Capitals secured their 16th straight home court win after a physical second game against the Townsville Fire, the night after being named the CBR Team of The Year. The UC Caps hit the court proudly wearing orange in support of the 16 Days of Activism Against Gender-Based Violence campaign by UN Women Australia as part of the WNBL's 'Orange the World' themed rounds.
The 1st quarter was slow for the initial four minutes, however, the combination of Kelsey Griffin and Kia Nurse led a surge of scoring combining 12 points. Townsville would heat up late cutting the lead to one at the end of the quarter.
The 2nd quarter early on would be completely taken over by the tandem of Nurse and Griffin both putting on a scoring clinic through easy jump shots and tough "And-1" baskets. Marianna Tolo and Maddison Rocci would add quality minutes rebounding, assisting and scoring from the inside. But Townsville would not go away easily thanks to some efficient shooting by Julie Vanloo and Kate Gaze. Bridget Carlton would find her rhythm late, with a step-back three to cut the lead to one. After trailing by 15 in the 2nd, Townsville would take a commanding 53-48 lead to close out the half.
Thanks to some great defensive plays by Keely Froling and relentless attacks to the basket by Rocci, the UC Capitals would quickly find themselves up by two in the early going of the 3rd quarter. Griffin would continue her scoring clinic to keep the Fire at bay. Nurse found her rhythm again making key baskets and a momentum shifting "And-1" by Olivia Epoupa would help the UC Caps garner tight control of the 3rd quarter closing with a 13-point lead.
The final quarter would become the Capital's show as they convincingly took control of the game with the crowd sustaining the momentum behind them. A late attempt at a rally by the Townsville Fire would not be enough as the UC Capitals took the win, 87-78.
Abby Bishop, the current league leader for points, put up 23 followed closely by Vanloo with 20. Griffin would lead all scorers with 27 points, followed by 24 points from Nurse in just 21 minutes. Froling and Tolo also finished the game in double figures.
The UC Capitals will now spend Round 8 on the road as they take on the Bendigo Spirit and former Capital Kelly Wilson for the first time this season. They will return to NCCC on December 15 to play the Southside Flyers who sit top of the table despite their one and only loss to the UC Capitals. To purchase tickets, click here.