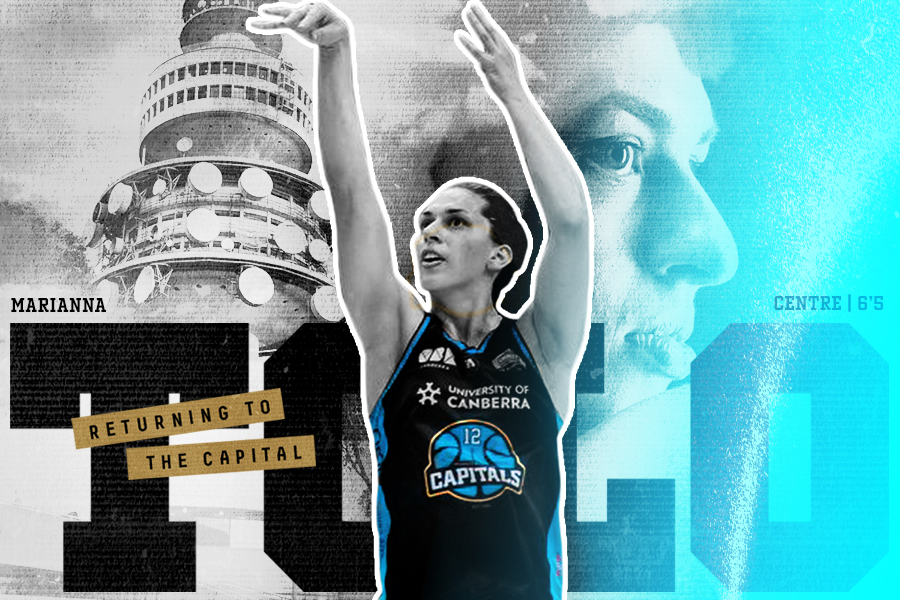 June 2, 2020 | UC Capitals news
The UC Capitals have begun laying the foundations of their 2020-21 roster with the re-signing of Australian Opal, Marianna Tolo, for a third consecutive season.
The star Centre and four-time champion is an integral start to Paul Goriss' roster having been selected as the Players' Player by her teammates two seasons in a row after co-captaining the side to back-to-back championships.
"She is one of the best players in the WNBL, an Opal and a crucial piece for us, and not only for her defensive presence on the court. She has morphed into a scorer for us and her leadership, work ethic and contribution off the court speaks volumes as to the player and person she is not only for the UC Caps but in the Canberra community.
"Tolo has been a foundation piece for the Caps for many years and she continues to grow and still improve her game. With such a special person like Tolo, we will continue to build a team around her and others to strive for further success," said Goriss.
Tolo was motivated to re-sign with the Capitals after the team's recent success and a shift in her original plans for the year.
"It's hard to say no when we have just won back to back. I had initially thought of going overseas but because the Olympics was postponed to next year as well as the ongoing Coronavirus situation, it seemed like the perfect decision to make.
"I know that the way we train and play will prepare me perfectly for Olympics. The UC Capitals also really look after their players, so I know that they always consider my health during the season. They have been great with managing my injuries," she said.
Tolo has only played for the Capitals while in Australia since she left the AIS in 2008 and local fans will no doubt be thrilled to know she's back for another season.
The Capitals' first signing announcement comes a week after the WNBL confirmed the season will go ahead in November, a month later than usual, with each team to play 21 games.
"It feels great to have a date to work towards. It's going to be strange starting at end of November as usually after Christmas the season flies, but this year will be a little different.
"I'm just excited that at this stage it's all going ahead. I am looking forward to training in groups instead of just myself or in partners. It is a long time from now so it's going to be an anxious wait to get things underway," said Tolo.