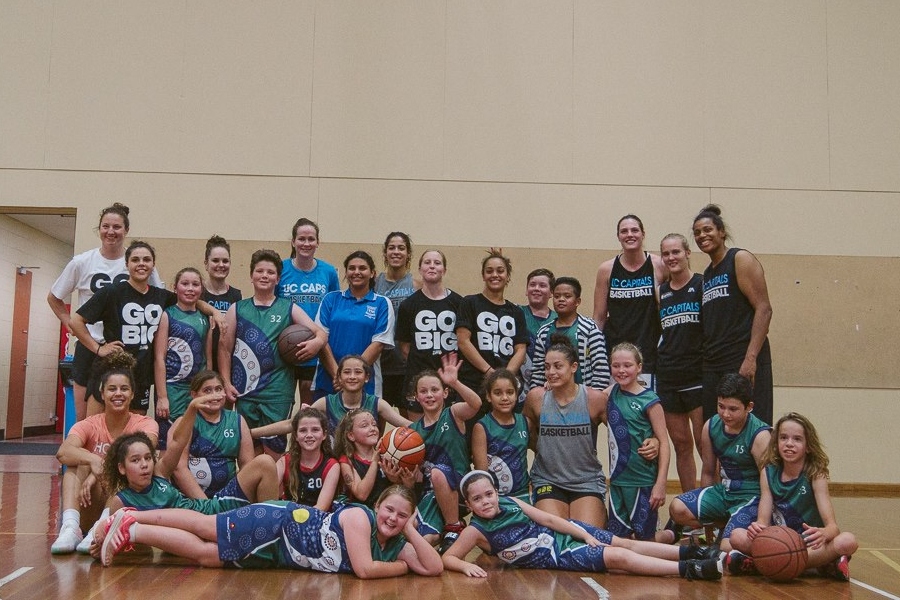 December 11, 2018 | UC Capitals news
The University of Canberra Capitals commemorated the start of Round 10, the first-ever Indigenous round in the club's history, with a skills clinic with the Winnunga Warriors Aboriginal and Torres Strait Islander Basketball Club.
The Warriors are a reincarnation of The Shadows, the club established by Patty Mills' parents, Yvonne and Benny Mills, with the idea of promoting diversity by encouraging people of different backgrounds to play together. However, The Shadows discontinued in 2012 after Mills' parents retired from the role.
The Warriors was established in 2015 by Dion Devow, the current Club President, with the hope to unite Indigenous and non-indigenous communities together through basketball. The Club offers teams ranging from U10's to U19's.
Mr Devow is an Indigenous entrepreneur who won the 2018 ACT Australian of The Year for his dedication and promotion of Aboriginal businesspeople. Devow also owns a clothing company, Darkies Designs, which produces contemporary Aboriginal-themed clothes and print media through collaborations with Indigenous artists and designers.
The UC Capitals met The Warriors U12's and U14's team at Southern Cross Stadium and engaged them in a series of skill circuits, followed by a UC Capitals vs. The Warriors game of basketball.
While in a stadium full of screams and laughter, Bruce Minerds, step-father of Mr Devow and a coach of The Warriors, said that you can hear what the UC Capitals visit means to the players.
"It's fantastic – they've been awesome with the girls. My little granddaughter has never been so excited to go to a Capitals game, it's lovely".
Mr Minerds said that the UC Capitals holding an Indigenous Round for the first time in the club's history is a very important move.
"It really sends out a terrific and positive signal to the community. For Aboriginal and Torres Strait Islander people, just that recognition is a big deal," said Mr Minerds.