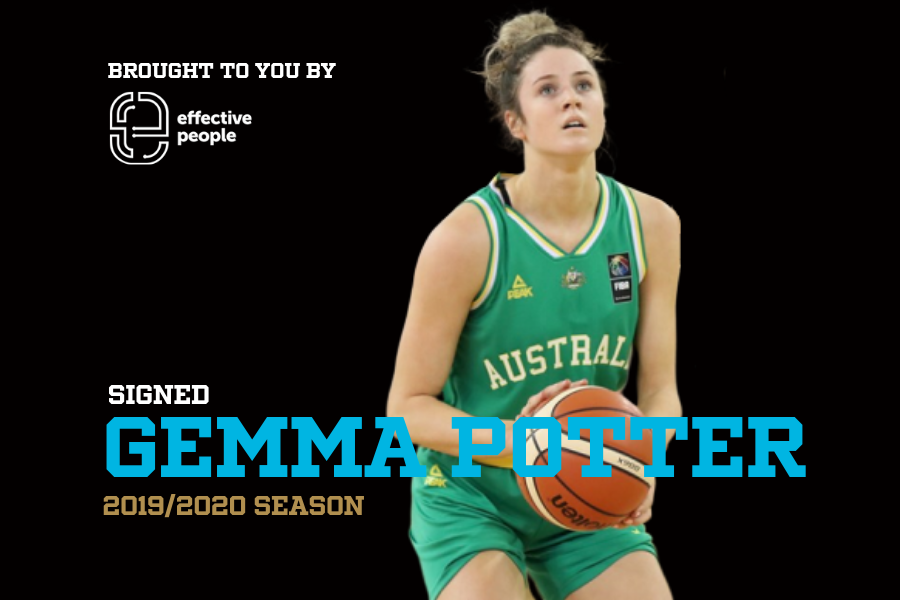 September 10, 2019 | UC Capitals news
The University of Canberra Capitals look to the future with signing of 17 year old Guard-Forward Gemma Potter for the 2019-20 WNBL season.
Potter is the UC Capitals youngest player but is coming off the back of an impressive year playing for Australian national teams, the U17s Sapphires and U19s Gems, at the FIBA World Championships where she won a bronze and silver medal.
Head Coach Paul Goriss said that it wasn't just Potter's standout performances in these tournaments that caught his eye.
"I have been tracking her progress and development for two years with her performances at U18 National Championships representing Victoria and through her games with NB1 with the Centre of Excellence this year," said Goriss.
Potter, 182cm tall and originally from Victoria, has been in Canberra since 2018 to train at the Basketball Australia Centre of Excellence and study at Lake Ginninderra.
"She is a great talent and I believe she can add value to our team right now. She is very athletic, runs the floor well in transition, shoots the 3 with great consistency, and is a relentless rebounder and will complement our team very well.
"I see the UC Caps providing her a pathway and an alternative to USA College. In the last few years we have had a great track record of helping develop young Aussie talent like Ezi Magbegor, Maddy Rocci and Keely Froling transition from juniors to professionals and representing our country, and now I think we have another burgeoning talent in Potter," said Goriss.
Now ready to make her WNBL debut, Potter said that she is looking forward to being a part of the UC Caps family."Playing in the WNBL has always been a goal of mine and for me to be getting this opportunity at this age is just amazing. Being exposed to this league at 17 with the experienced players and coaching staff in the UC Capitals team is really going to help me take my game to a new level.
"I am really looking forward to working with Kia Nurse. She has so much international experience and knowledge of the game and getting the chance to play and train with her each time we step on the court will be very beneficial towards my game," said Potter.
Goriss has high hopes for Potter and believes the UC Capitals could be integral to her basketball career.
"I see Gemma being an Opal in the not too distant future. I provided her with our plan for her over the next four years and how we can assist her development, with study at UC and a pathway to the Opals.
"She will get to train against one of the best players in the world in her position in Kia Nurse, there is nobody better for Gemma to learn from and go against every day.
"Gemma has signed an amateur agreement which allows her to get a taste of WNBL before she makes a decision on whether to continue in Canberra or go to a USA College."
Despite Potter's bright prospects, Goriss said he does not have any expectations for her other than to try her best.
"Her role will be to bring energy from the bench, play hard and to her strengths and be a good teammate.
"Gemma and I have discussed this and the areas we will help her improve and develop on court. That's all I want from her and to enjoy this journey with a fantastic group of athletes," said Goriss.
The UC Capitals have development roles to fill before the roster is complete as pre-season officially begins this week.