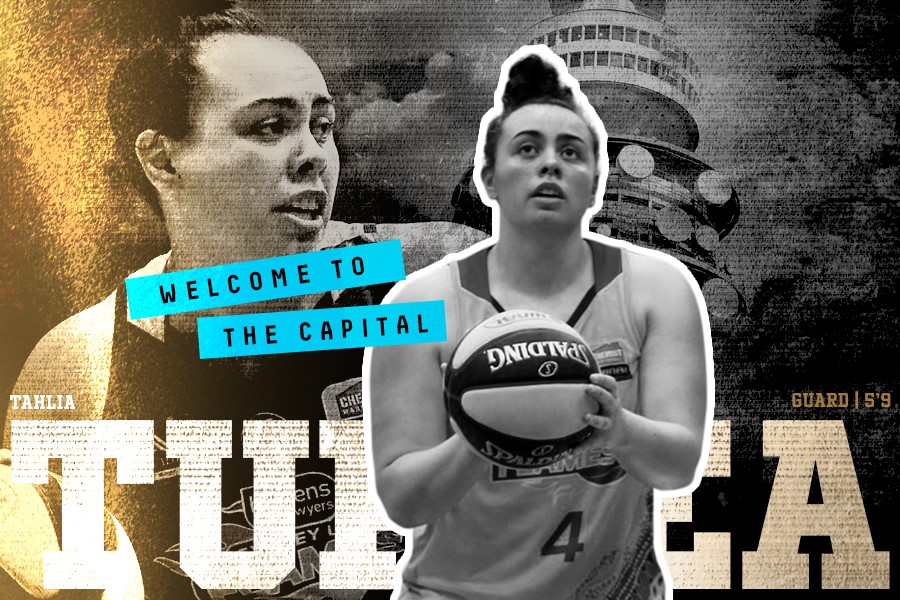 June 11, 2020 | UC Capitals news
The UC Capitals have locked in 23-year-old Point Guard Tahlia Tupaea for the 2020-21 season.
Tupaea has played for the Sydney Flames since first debuting in the WNBL at the age of 15 – the second youngest debutant in the league's 40-year history.
She has been a prominent member of the Australian junior program representing the Gems for a three-year period and was also drafted in the WNBA in 2017.
Head Coach Paul Goriss knows Tupaea well after coaching her in 2015 as part of the bronze medal-winning U19 Gems at the FIBA World Championships.
Goriss said that after some unfortunate injuries and concussions, Canberra will be a fresh start for her.
"At 23 years old, she is coming into what I believe is her prime age of basketball and still has much more to offer and improve on.
"She is a relentless competitor with a high basketball IQ and plays with great poise on the court above her years. She is a great facilitator at the Point Guard position but can also shoot very well from range and has the ability to get to the basket.
"I believe this fresh start could reignite her ambitions to be an Opal and get to the WNBA with the Minnesota Lynx where she was drafted 36th in 2017.
"There is a great upside to Tahlia and her game with the leadership in our playing group and support services we have in Canberra, I believe this is an ideal fit. I know the damage she can do when healthy and we have been on the end of her ripping us apart over the years so I'm happy to have her as part of our team and I'm looking forward to coaching her again," said Goriss.
Tupaea said that she is really looking forward to the move to Canberra.
"I chose to sign with the Caps because it felt like a really good fit with the coaching staff and players who have a wealth of knowledge and experience. It isn't far from home in Sydney, so family and friends can still come to support me.
"I am looking for a new path in my basketball journey, I have had a few niggling injuries so I'm looking to rejuvenate my confidence and passion for the game and immerse myself in the Caps. Due to COVID-19, I had an early return from Frankston Basketball which was disappointing but it has given me the opportunity to have a rest and now get ready for the season," said Tupaea.
Tupaea is now the eighth player to join the UC Capitals alongside Marianna Tolo, Kelsey Griffin, Maddison Rocci, Keely Froling, Abby Cubillo, Alex Delaney and Gemma Potter, whose participation in the upcoming WNBL season is contingent on whether she can fulfil her college commitments with UCLA.
"I have a good relationship with Paul, and I have played with Maddy and Alex before and been to Opals camps with Marianna and Kelsey and feel that both will be a great support on and off the court," said Tupaea.
There are now just a few critical spots left to complete the roster before the season tips off on November 20, when the UC Capitals bid for a threepeat begins.