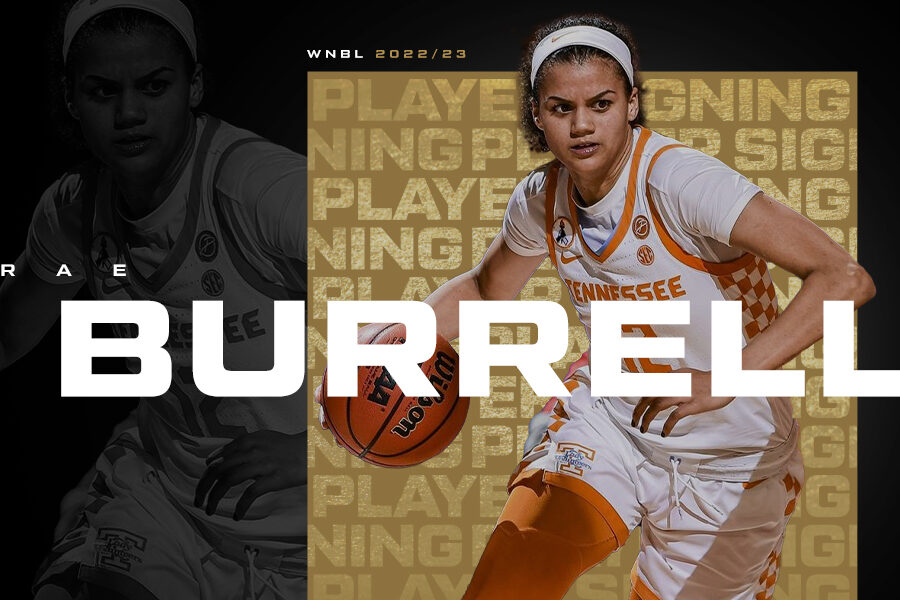 August 30, 2022 | UC Capitals news
The UC Capitals are thrilled to announce the signing of WNBA rookie Rae Burrell for the upcoming WNBL season.
The 6'2 forward played college basketball with the University of Tennessee, where she averaged 10.3 points and 4.2 rebounds over four years.
In 2022, her WNBA dreams were realised, when she drafted by the Los Angeles Sparks, as ninth overall pick.
The 22-year-old played three games for the Sparks, before a knee injury ruled her out for the remainder of the season. She underwent surgery in May and is expected to join the UC Capitals for pre-season training in September.
"I am so excited to be joining the UC Capitals and to help the team to a championship," she said.
"I have heard that the UC Capitals are a strong team that is family oriented and hard working. I have heard the WNBL is a competitive league, and I am excited to join as a competitor myself."
Rae said Sparks teammate and former Caps fan favourite Brittney Sykes was a major influence in her decision to sign for the 2022/23 season.
"She is the definition of an athlete and competitor, she influenced me into joining the Caps because of the progress her game has shown since playing with the team.
"I am hoping to get a championship ring out of this season and really just elevate my game. I am also looking forward to the bonds and experiences that will come with being on the team."
UC Capitals Head Coach Kristen Veal said Rae is an exciting addition to the team.
"We believe Rae will complement the Caps line-up this season and eat up every opportunity to win basketball games," Veal said.
"Rae brings versatility, score power and a competitive focus that will see her win fans on and off the court. I'm looking forward to watching Rae find her rhythm with our exciting roster and showing the rest of the league, and the world that she is a force to be reckoned with."
2022/23 UC Capitals Signings |
Jade Melbourne, Shaneice Swain, Gemma Potter, Tahlia Tupaea, Brittany Smart, Alex Bunton, Emilee Whittle-Harmon, Rebecca Pizzey, Dekeiya Cohen, Sherrie Calleia, Rae Burrell