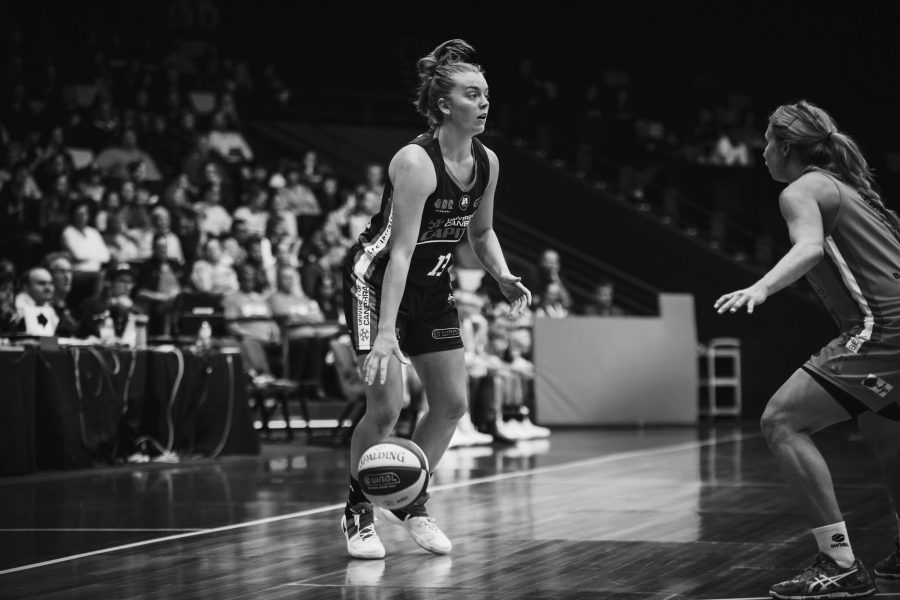 October 8, 2017 | UC Capitals news
The University of Canberra Capitals are unbeaten on the opening weekend of their 2017/18 WNBL season, securing their second win, taking down MAC Adelaide Lightning 84-77.
In their new home, the UC Capitals took no prisoners as they played a physical Lightning outfit with Jordan Hooper again establishing her name in the league with 19 points, seven rebounds and three assists in just her second game for the home side.
Rachel Jarry demonstrated stability towards the end of the first quarter, stealing the last two points to keep the UC Capitals ahead 20-19.
The second quarter confirmed that the UC Capitals can keep the pressure on the opposition with Kate Gaze keeping the crowd entertained with a spectacular three-pointer along with Jordan Hooper extending her personal score to 15 points. The UC Capitals went into the half-time break 48-34.
A late third quarter MAC Adelaide Lightning revival was swiftly stamped out as Nat Hurst secured the last points to keep the UC Capitals ahead by 2 going into the final period.
The final quarter saw Abbey Wehrung and Mistie Bass help keep their side's momentum at an all-time high as they guided the home team to an extended lead to win the game 84-77.
UC Capitals head coach Paul Goriss said he was relieved to start the season with two wins and says that his side can only get better as the season progresses.
"I say all along, winning is a habit You create habits at practice, but you create habits through having good people and competitive people,"Goriss said.
"We're never going to say die and I think we'll be in every game this season."
"We are going to be known as a team for our defence and we will keep improving so we will only get better at that and we can match it with any team in the league."
UC CAPITALS 84 (Jordan Hooper 19, Rachel Jarry 15, Abigail Wehrung 14)
ADELAIDE LIGHTNING 77 (Abby Bishop 21, Natalie Novosel 14, Colleen Planeta 10)
COMPETITION WNBL 2017/18  VENUE National Convention Centre  GAME DETAILS Tip off: 3:00 pm 8/10/17  ATTENDANCE 905
Next Game: JCU Townsville Fire v UC Capitals, Townsville Stadium, Friday October 13th. Tip-off: 7:00pm.
Next Home Game: UC Capitals v Melbourne Boomers, National Convention Centre Canberra. Sunday October 15th . Tip-off: 3:00pm. Tickets: bit.ly/2fhQQ3t
Credit: Jaylee Ismay
Photo: 5 Foot Photography