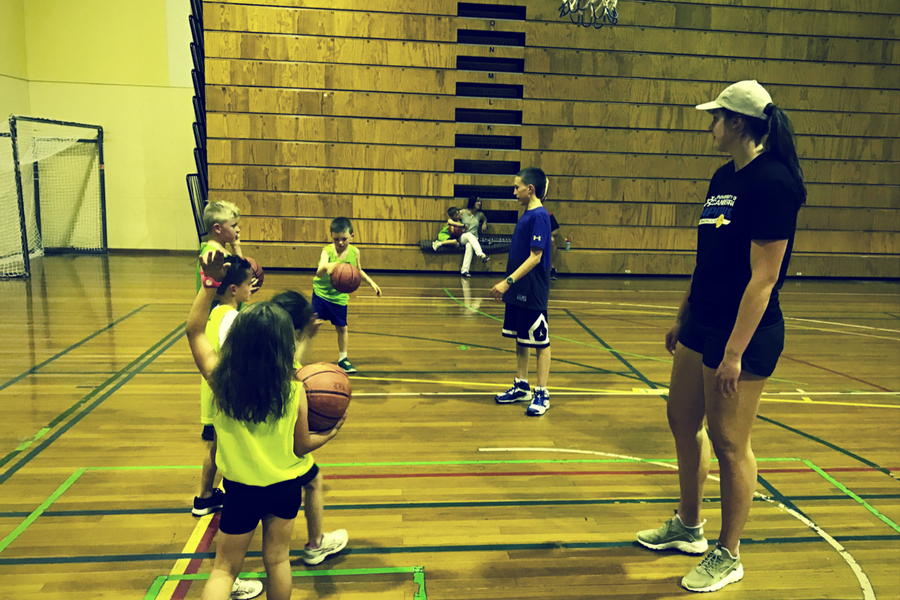 November 29, 2017 | UC Capitals news
University of Canberra Capitals players recently shared their time and expertise working alongside Basketball ACT and the Aussie Hoops program to promote basketball for children in the local community.
Aussie Hoops is a nationally recognised beginner basketball program for children aged 5-10 years, focused on keeping children active and teaching fundamental basketball skills, while having fun and making new friends.
This year Basketball ACT reached over 600 new and returning participants with an increase of 10% growth compared to the previous year.
Basketball ACT development officer Reece Kaye said the UC Capitals provided expert knowledge and an exciting fresh take on the program for the children.
"They have done a great job of lifting the energy and excitement amongst the Aussie Hoops kids," Kaye said.
"This opportunity has provided our budding Canberra basketballers with the chance to meet and learn from, some of our cities biggest sporting role models."
"It's just really good to see the way the players have reacted to being coached by some of Canberra's elite local sporting talent."
UC Capitals small forward Chevannah Paalvast said the Aussie Hoops program was a fantastic way to reach out into the Canberra sporting community.
"It was great to see so many young boys and girls participating and enjoying playing basketball," Paalvast said.
When the UC Capitals aren't on the road, they have also been attending the finals of the 8 and Under program to cheer on the next generation of basketballers.
To catch the UC Capitals in action make sure you purchase your tickets to the last remaining four home games. 
Next Home Game: UC Capitals v Sydney Uni Flames, National Convention Centre Canberra. Tip-off: 7:30pm, Thursday 7th December.
Tickets: bit.ly/2fhQQ3t
Credit: Jaylee Ismay